Minster 2016
The plays were staged in York Minster from 26 May 2016 (the feast of Corpus Christi, the date of the medieval Plays) to 30 June, the longest-ever run. The Dean of York said the Minster had been privileged to be the Plays' guardian for a season.
Director Phillip Breen and producer Nicky Corp recruited actors and actresses from across the region both to take part in and to support the production: there was only one paid professional actor in this production, Philip McGinley, playing Christ - local people did the rest!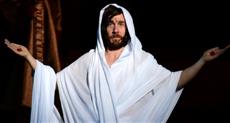 Here is a link to a castlist. Here is a link to the list of creatives. Over 200 were selected for named parts (many regular York amateurs and some young professionals) and the chorus. Some 50 were children/young people. Another 200 people took roles such as administration, building the set, making props, or as wardrobe assistants, seamstresses, backstage crew, steward.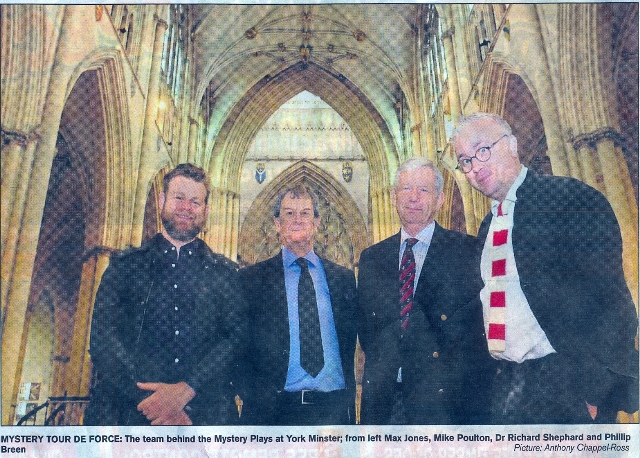 This picture shows designer Max Jones, scriptwriter Mike Poulton, musical director Dr Richard Shephard and director Phillip Breen in the Minster, planning the 2016 production. Over 26.000 people saw the 41 performances, about 65% of the possible sales.
The above York
Press
cutting is among those in the NCEM archive.
We welcome contributions to the archive from those who appeared in and worked in the 2016 Plays.

Here is a link to the page listing
Creatives
. Below are Ehren Mierau, who played Judas and Toby Gordon, who played Lucifer.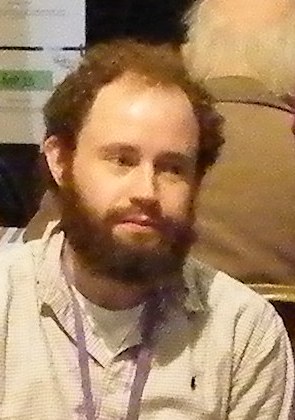 Below, Abraham (John Roden) prepares to sacrifice his only son Isaak (Ewan Croft). God sends an angel to stop him, having tested his faith.
See below a link to a page about an exhibition considering the plays in the Minster. Here is an image used for the exhibition.