Archive of Mystery Plays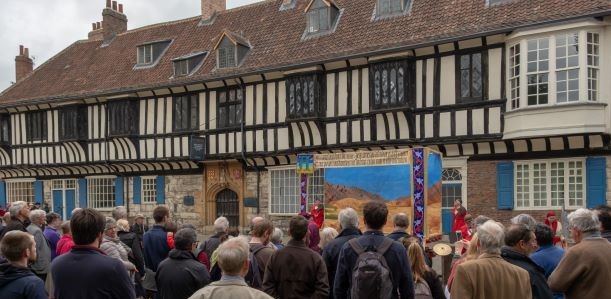 The York Mystery Plays archive (which you can search) holds information and items relating to the Cycle of York Mystery Plays and their performance in the city in the modern era. Photographs, programmes and other material have been contributed by York people, actors, audiences and by the Minster, the Theatre Royal and Mystery Play enthusiasts to the archive stored in the National Centre for Early Music. Our earliest material is 1909, followed by press cuttings, programmes and photos from 1949 to now. Here is a link to an
archive page
with a photograph of our oldest ticket. We would love older tickets, search your cupboards.
Thank you to actors, supporters, the Minster and community photographers for the range of information received for the great recent productions to 2018.
Below: is a 2006 wagon play photo donated by Patrick Olsen, who has given many items depicting various years. This page in the Archive lists
donations
which have been received in the last two years.
Please note
: The bulk of the searchable material from 1949 onwards was first recorded in 2002 with museum-type codes. We continued collecting so the NCEM database holds all relevant information for the subsequent productions to date. You can see some on this website and will find more by searching the archive.
I
f you cannot find something important to you,
ask the archivist
for a search.
Here is a photograph which was brought into the National Centre for Early Music so the archivist could scan it. Eve is being tempted by Satan in 1957. Eve was Sheila Barker, Satan was Gerald Morden.
- The plays were in the Museum Gardens in 1951, 1954, 1957, 1960, 1963, 1966, 1969, 1973, 1976, 1980, 1984, 1988 and 2012. In 1992 and 1996 they were in York Theatre Royal. In 2000 and 2016 the Dean and Chapter arranged for the plays to be performed inside York Minster.
- A Cycle of Plays was produced on Wagons in 1994, 1998, 2002, 2006, 2010, 2014 and
September 2018
.
- There have also been individual pageants in certain years, such as
Christ Before the Elders
in 1960,
Abraham and Isaac
in 1963, The
Three Kings
in 1973, the
Flood in
2012.
- Most of the scenes within the Mystery Plays are from the New Testament of the Bible but if you search under 'Old Testament' in the archive below you will see a list of Old Testament scenes performed each year.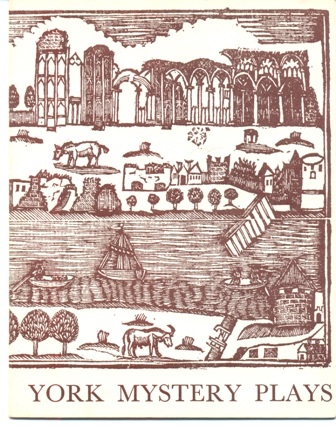 A recent donation has allowed us to identify that there were Yorkshire Mysteries in the Arts Centre, Micklegate
in 1986
(
From Creation to the Christchild
) and 1987 (continuing on to
The Passion
) - photo below right.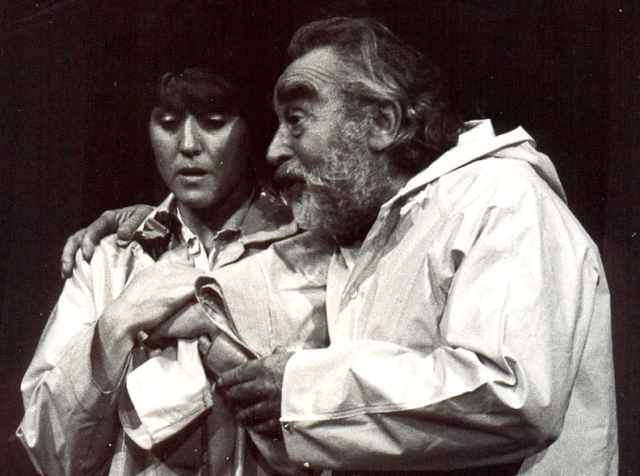 In 2012 HIDden Productions performed
Noah's Ark
- flying a live raven and live dove. Is this the first time in York that
live birds
were used?
Live sheep
have accompanied the shepherds, for instance
in 1980.
A 2015 academic enquiry about Monteverdi
Vespers
1610 was answered by a scrapbook in our archive: scroll down t
his entry
.
Material from the archive held in the National Centre for Early Music in York is available online by searching below, including scans, electronic versions and recorded interviews. If you have a particular request, please
contact the archivist
. Or
share your memories!
Please do not use an apostrophe or single inverted comma when searching.