A Time of Change
Throughout the 1950s, E. Martin Browne continued as Director of the Plays. In 1960 David Giles followed in his artistic footsteps. But William Gaskill, appointed in 1963, proved a m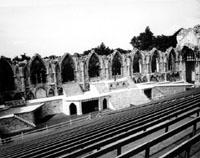 uch more controversial choice: his Brechtian philosophies left most of the local cast bewildered.

Many famous actors took the part of Christ over these years. Joseph O'Conor was a most memorable figure in 1951 and 1954; Brian Spink took the role in 1957 followed by Tom Criddle in 1960 and Alan Dobie in 1963. In 1966, E. Martin Browne was asked to return to direct and John Westbrook played Christ, but in 1969 York Corporation had found another local man to direct: Edward Taylor. He decided against any professional actors, but rather to have three York-based actors play the part of Christ, God and Judas in rotation: John White, Peter Blanshard and Gerald Lomas. On the page Key Roles and Actors is a cutting about this novel idea. In our archive is a list of all those playing Christ.

The first production for which we have sourced archival film was in 1969 - and of course our understanding of the Plays grows accordingly at this point. Suddenly we get a real sense of the nu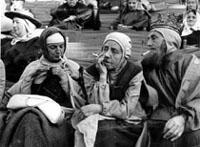 mber of people involved with the making of the Plays - the workload, the problems for designer Patrick Olsen of building a set in the open air and the joys of taking part in these remarkable productions.

The Plays continued to take place in Museum Gardens, among the ruins of St Mary's Abbey, until 1988. In 1973, professional actor John Stuart Anderson took the role of Christ under the direction again of Edward Taylor (but with a new script by Howard Davies). York actor David Bradley worked alongside the first woman director, Jane Howell, in 1976. Christopher Timothy played Christ under Patrick Garland's direction in 1980 with Toby Robertson taking the reins in 1984 with actor Simon Ward. A special adaptation with York Settlement Community Players took place in 1986 and 1987 in the Arts Centre, Micklegate. The 1988 production in St Mary's Abbey ruins was directed by Steven Pimlott with Victor Banerjee playing Christ.
In 1992 and 1996 the plays were indoors for the first time, produced by York Theatre Royal - here is an image of that programme.
In 2000 a major production under the direction of Greg Doran took place in York Minster - an unforgettable venue, made possible by the formation in 1998 of the York Millennium Mystery Plays Board with the then
Dean of York
. The image below from a Minster window was the icon for that production. See photographs of Millennium plays on
this page
. In 2016 the Minster, led by Rev Dean Vivienne Faull, again
hosted the Plays
with Philip McGinley playing Christ.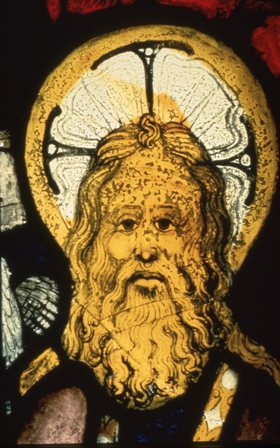 In 2012 the Plays ran in Museum Gardens with directors Damien Cruden and Paul Burbridge. Ferdinand Kingsley played God and Jesus, Graeme Hawley played Lucifer. Radio microphones by now were able to make a real difference for both cast and audience in this outdoor setting. See cast list
here
and photographs of the 2012 production on
this page
.
In July 2014, in September 2018 and in June 2022 the Plays were on wagons again, thanks to the Guilds of York.

On
this page
is a list of all webpages in this site, to help you navigate.