Supporters and thanks
Thank you to everyone who has supported this archive and the NCEM, including York Minster Archive, the Yorkshire Film Archive, Richard Rastall and Dr Mike Tyler. The project was funded by the Heritage Lottery Fund with support also from York Civic Trust, the Feoffees of St Michael's Church, Spurriergate, Mayfield Valley Arts Trust, the City of York Council, the Arts Council (North) and the York Millennium Mystery Plays Board.
Originated by Dr Delma Tomlin MBE, Founding Director of the National Centre for Early Music. She is pictured at the foot of the page (centre) with members of the York Millennium Mystery Plays Board.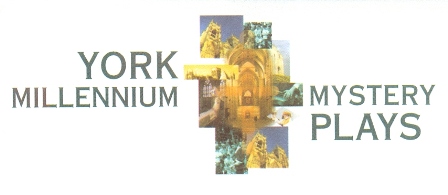 Thanks are also due to many contributors:
Dean and Chapter of York Minster
York Theatre Royal
Keith Wood
Peter Dench
Arthur Pickering
York Oral History Society
Eileen Skaife
Ossie Heppell
Bill and Joyce Brunton
Muriel Sorby
Joyce Johnson
Ursula Groom
Barrie Dobson
James Brown
Allan Wicks
Patrick Olsen
BBC Radio York
Robert Walker
Richard Shephard
Jane Oakshott
John White
Brian Kay
Geoff Wragg
Frank Dobson
Rodney Briggs
Rev Hugh Curristan
Ken Evans
Darrell Buttery

John Hall
Margaret Rogerson
Chris Cade
Keith Daggett
Arthur Rosewarne
Tony and Sue Morris
Yorkshire Television
City of York Archives
Ruth Ford
Louise Hampson
Peter Young
John Scott
Maurice Crichton
Roger Lee (Guilds of York)
Graham Sanderson
Andy Cartwright
Sarah Barnard
Jillian Johnson
Rachel Semlyen
Margaret Richardson
Fletcher Nicholson
Mary Maldon Owen

Helen Hale
Simon Tompsett
Linda Terry
Margaret Furniss
Martin Hodgson

Margaret Scott (Archivist)
Our thanks also to the many individuals who have lent photographs for the Archive and the website. They include Jane Hatcher, Pam and Pat Olsen, The Press York, Kippa Matthews, Steve Bielby, Simon Tompsett, Linda Terry, Iain Smith, Gweno Williams, Paul Acton, Beryl Nairn, Lewis Outing, Mike Oakes, Duncan Lomax, John Saunders and the community photographers of the 2012, 2014, 2016 and 2018 productions. You can contribute by contacting the NCEM. If you are interested in the history of our building, look at this page.

Below: Members of the York Millennium Mystery Plays Board, in the Deanery, York (2012).