York Minster and the Future
For the 2016 Minster production, see
this page
.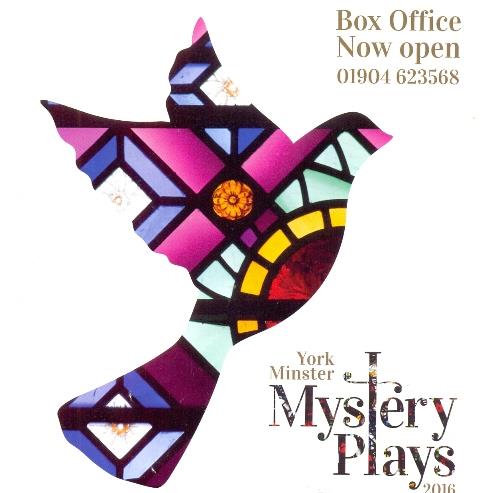 Dean Ray Furnell (York Minster 1994-2003) encouraged the first ever production of the Plays in York Minster, to celebrate the Millennium. This 2000 production proved to be an overwhelming success - all tickets sold out to see the remarkable Plays performed in the largest Gothic cathedral north of the Alps. Director Greg Doran led the team, with Ray Stevenson taking on the role of Christ and Richard Shephard creating new music. The
attached page
has the cast list and
this page
has more photographs.
The next Dean, Rev. Keith Jones, supported the work of the NCEM's then new Mystery Play Archive through the Board of York Millennium Mystery Plays. York Minster's first woman Dean, Very Rev
Vivienne Faull,
hosted the longest-ever Mystery Play production, May-June 2016. See
this page
.
L
eft:
Noah's Ark surrounded by the Flood, against the background of the great East Window of the Minster.
Below right: the Crucifixion of Christ by Roman soldiers, in the Crossing of the Minster.
York Minster's stained glass has been the inspiration for much creative thinking in the Plays. The glass in the great East window has undergone a magical refurbishment. This picture is an example: St John looks up at God from the lower left corner (Eric Lee).
Following the 2016 production, the East End of York Minster hosted a thought-provoking exhibition about the characters of the Plays. Visitors were asked to record their reaction to the dilemmas faced by those such as Eve and Dame Percula, Pilate's wife.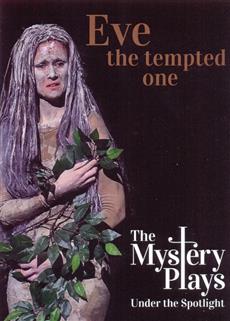 Dean's Park, next to the Minster, became a location for presentation of the cycle of Mystery Plays produced on wagons from the first revival in 1994. Schools and colleges in York have always been participants in the Mystery Play productions, as below. The Guilds of the city of York have organised a cycle of York Wagon Plays in 2002, 2006, 2010, 2014, 2018 and 2022. The Minster is a popular background for photographs, as in 2018.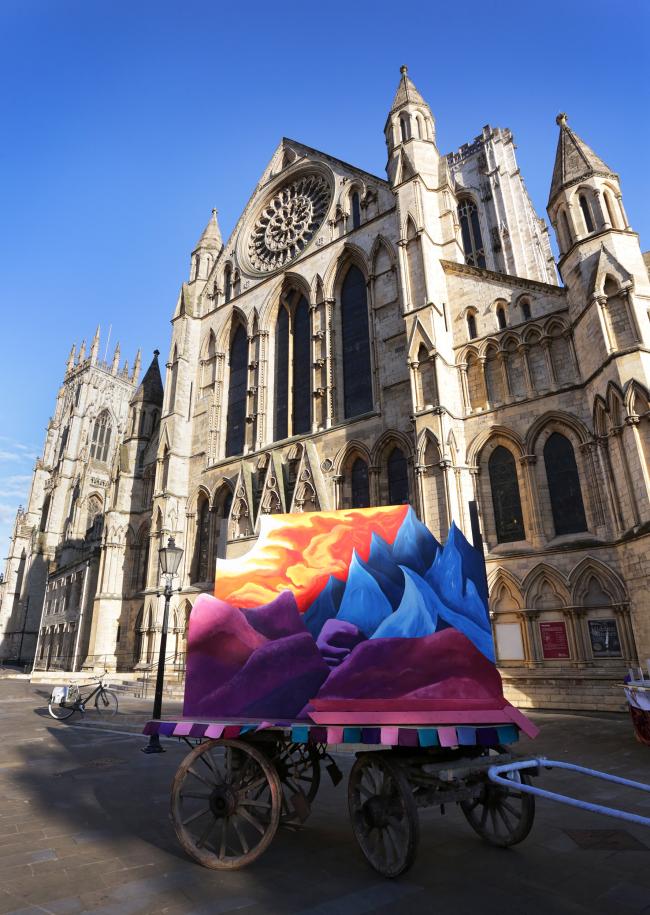 Bottom: the play of Abraham and Isaac in Dean's Park, performed by students from York St John University, 2010.
The NCEM Archive includes an interview with
Rev. Ray Furnell
about the 2000 Mystery Plays.
For press cuttings on the plays in the Minster in 2016 see
this page
of the NCEM Archive.
A navigation guide listing all the webpages is available here.