Mystery Plays 2012 in Photos
Some of our photographs from August 2012 production in the ruins of St Mary's Abbey, Museum Gardens, seen by some 32,000 people: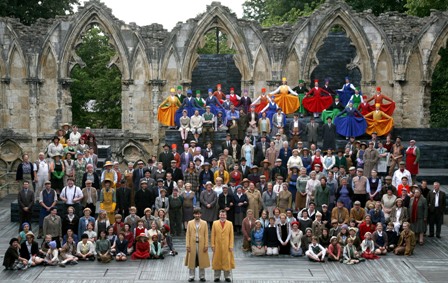 The cast at the dress rehearsal. At the back are the angels in heaven. In the foreground are God, left (Ferdinand Kingsley) and Satan, right (Graeme Hawley.)
God (Ferdinand Kingsley) is beginning to design and create the world.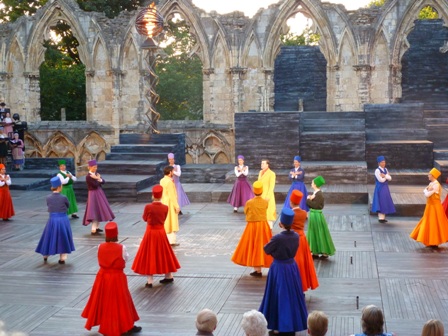 Having designed angels, he meets Lucifer (Graeme Hawley).
Lucifer is bearing light, surrounded by his own angels. After the Fall, he becomes Satan.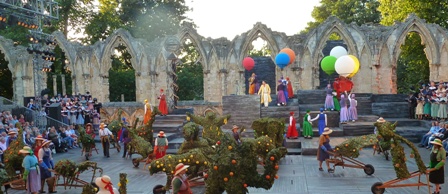 .
God watches as His created world appears, brought by 'garden angels'
Young Adam and Eve have been deceived by Satan (formerly Lucifer) into biting the apple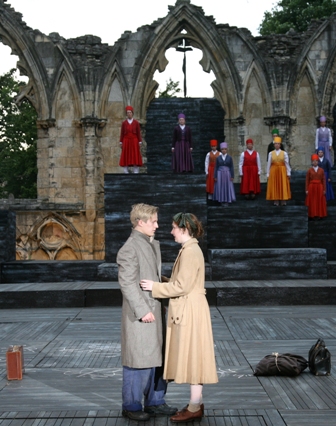 Adult Adam and Eve are expelled by the angels from the garden of Eden
Here is the Ark in preparation. Noah and his family wear sou'westers against the rain
The Ark bearing Noah's family and animals is surrounded by floodwater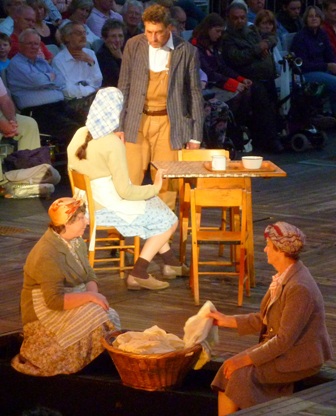 Joseph questions Mary about who is the father of her unborn baby
The Magi have come to worship the newborn Christ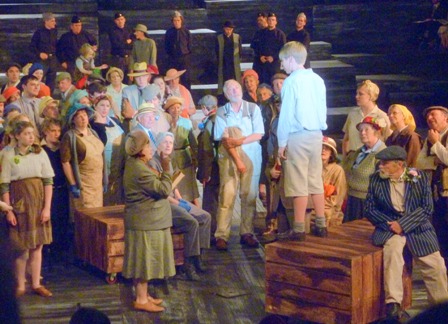 Young Christ is in the temple, speaking to an amazed crowd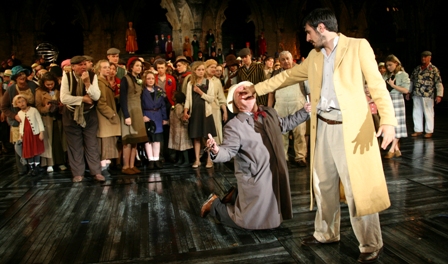 Jesus heals a blind man, to the watchers' amazement

Jesus and the Apostles are taking the Last Supper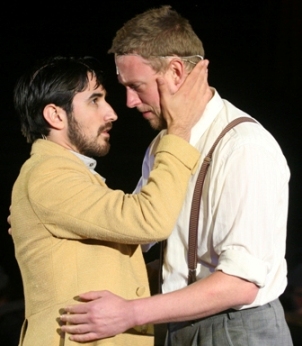 Christ knows Judas will betray him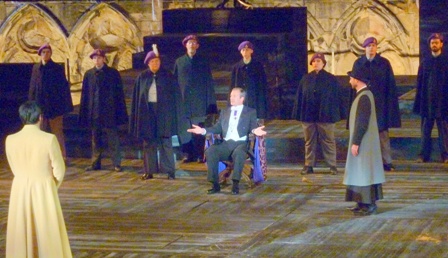 Pilate examines Christ. His wife Dame Procula pleads for Jesus.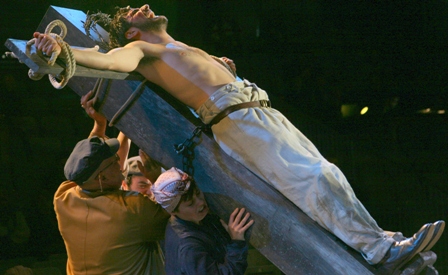 In agony, Jesus is on the cross and being lifted into place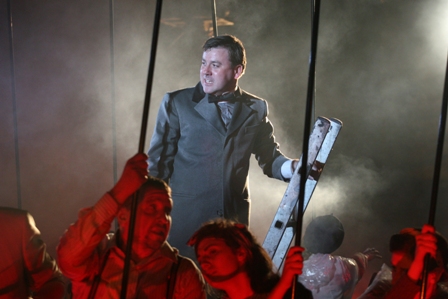 Satan is in Hell among souls who need redeeming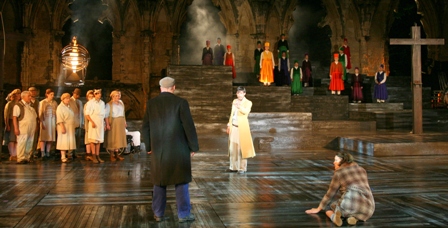 God is judging the good and bad souls found in Hell. On the left are Apostles.
The full cast at the
finale
Here is the
cast list
.
Here is a trailer on
YouTube
by organisers of the 2012 production.
As part of the celebration of York's famous 1212 charter from King John, the City Archivist in 2012 organised an exhibition of York's City Archive material, at the central library. The Mystery Plays
featured in this display
, using images from the City Archives, the National Centre for Early Music and the National Railway Museum. In the
Yorkshire Museum's
medieval gallery an exhibition included the manuscript of the Scriveners' Guild's Play and the medieval Pageant Accounts of the Mercers' Wagon Play, from the archive of the York Merchant Adventurers.