Exhibition Spotlighting Plays
After the 2016 Plays finished, the East End of the Minster (behind the High Altar and Quire) became an exhibition space about the characters in the Plays, their beliefs and their actions.
"Under the Spotlight" asked visitors to reflect on their own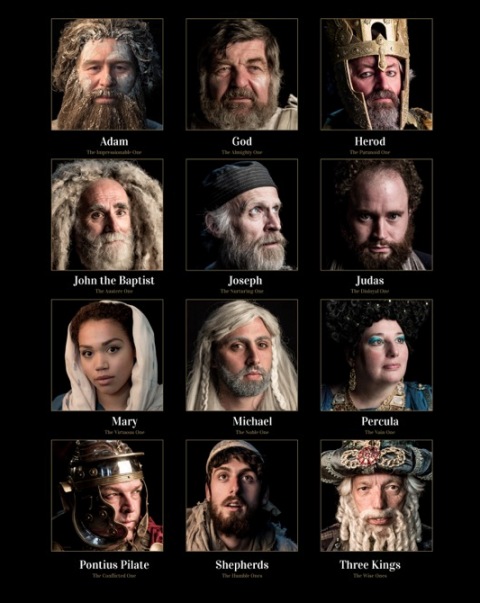 beliefs and how they behave. These twelve faces confronted the visitor, with the question 'What are you capable of?' Adam is the impressionable one (Bob Mallow), God the Almighty one (Ian Small), Herod the paranoid one (Maurice Crichton); John the Baptist (Mick Taylor), Joseph (Mark Comer), Judas the disloyal one (Ehren Mierau); Mary the virtuous one (Ruby Barker), Archangel Michael the noble one (Dinos Psychogios), Percula the vain one (Elizabeth Stanforth-Sharpe); Pilate the conflicted one (Philip Massey), Shepherds the humble ones and Kings the wise ones. The dead lamb - sacrificed by Abraham in place of his son Isaak - depicted the Old Testament prophecy about the death of Jesus, Lamb of God. Jesus (Philip McGinley) was The One. To see the structure of this website and all the pages, go
here
.