Search the NCEM archive
Item details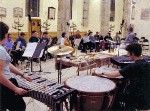 View of the recording session from the percussion section
Click to see larger
Photographs : Inside NCEM, recording Dr Richard Shephard's music
Item type:
Photographs
Archive reference:
YMP/A/17/6
Date/year:
2000
Description:
Singers and instrumentalists make a recording of Richard Shephard's music for the Mystery Plays 2000 production in the National Centre for Early Music, St Margaret's Church, Walmgate, which was newly opened. The Plays were performed in York Minster in 2000 and again in 2016, with Dr Shephard MBE again as musical director).
1. Richard Shephard conducts singers and instrumentalists, including members of the Ebor Singers (including Paul Gameson, Helen Vasey, Rosie Heighway, Chrissy Wood, Chris Steele, Steve Johnson, Graham Kirk, Ed Snow), students from the University of York (John Williams, Gemma Webster, James Stephenson, Jane Boxall), and others (Julian Small, James Freeman)
2. Singers Paul Gameson, Rosie Heighway, Helen Vasey, Chrissy Wood and Graham Kirk
3a-b. Richard Shepherd conducts the orchestra and choir (see item 1)
4. View of the recording session from the percussion section (John Williams, Jane Boxall) showing the singers, Richard Shephard, and instrumentalists (Mark Thompson, James Stephenson, Adam Micklethwaite, Alistair Long, & female cellist). In the programme the Musicians are named as
James Stephenson Oboe
Sharon Storey Clarinet
Adam Micklethwaite, Alistair Long Trumpets
Julian Small, James Freeman Horns
Ian Sharp Cello
John Williams, Jane Boxall Percussion
Gemma Webster Organ
One of these photos is now on the website page about Music.
< Go back