Search the NCEM archive
Item details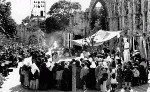 A dress rehearsal for the plays, musicians seated in the audience
Click to see larger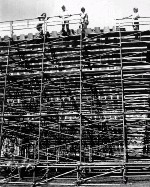 The scaffolding for the audience seating
Click to see larger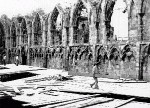 Construction of the stage
Click to see larger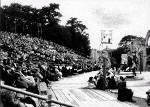 A scene from the plays
Click to see larger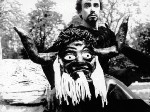 The devil (Raymond Platt) with Beelzebub (Christopher Woodcock).
Click to see larger
Photographs : 1976 photo, Yorkshire Evening Press
Item type:
Photographs
Archive reference:
YMP/A/9/1
Date/year:
1976
Description:
Yorkshire Evening Press
photographs of the 1976 York Mystery Plays production.
1. A scene from the plays (no caption)
2. Construction of the stage
3. Caption: 'An aspect of the Mystery Plays which few people see - workmen busy assembling the forest of scaffolding for the auditorium seating.'
4. ?05/07/1976 A dress rehearsal for the plays, musicians seated in the audience.
5. ?fromFestival Supplement. Caption: 'The devil (Raymond Flatt) with Beelzebub (Christopher Woodcock).' [sic: Raymond Platt]
< Go back