Search the NCEM archive
Item details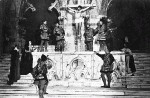 The Crucifixion
Click to see larger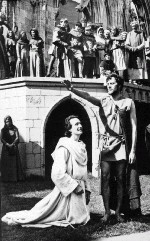 John the Baptist (Joseph Copley) baptises Jesus (Peter Blanchard)
Click to see larger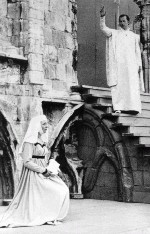 Mary is visited by an angel
Click to see larger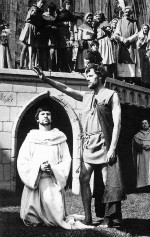 John the Baptist (Joseph Copley) baptises Jesus (Gerald Lomas)
Click to see larger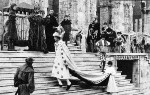 The Three Kings, attended by boys bearing the gifts, and King Herod (Michael White)
Click to see larger

John the Baptist (Joseph Copley) baptises Jesus (John White).
Click to see larger
Photographs : Black and white Photographs of 1969 plays
Item type:
Photographs
Archive reference:
YMP/A/7/3
Date/year:
1969
Description:
Collection of photographs taken of the 1969 Mystery Plays production. Copies of some photographs in the scrapbook by Eileen Skaife. The set designed by Patrick Olsen is clearly visible. Of uncertain origin, but descriptions suggested:
1. The Three Kings, attended by boys bearing the gifts, and King Herod (Michael Wilson).
2. John the Baptist (Joseph Copley) baptises Jesus (Gerald Lomas)
3. Mary is visited by an Angel
4. John the Baptist (Joseph Copley) baptises Jesus (John White)
5. The Crucifixion
< Go back