Search the NCEM archive
Item details
Sets : 1986 Yorkshire Mysteries Production
Item type:
Sets
Archive reference:
YMP/G/3
Date/year:
1986
Description:
Programme for 1986 production 'From Creation to the Christchild' Part 1 of the Yorkshire Mysteries: From Creation to the Christchild; Performed in the York Arts Centre, Micklegate (former St John's church). The Director was Simon Tompsett with Caroline Hollway and the script was based on the York and Wakefield cycles of the Mystery Plays and was inspired by the National Theatre production of the Mysteries. There was an accompaniment of Music from folk music of Yorkshire. Musical Director Tim Bayley. A co-production of the York Settlement Community Players and the Arts Centre Theatre group. Dance teacher Ray Barker.
Performed on Sat 5, 7, 8, 17, 18, 19, 24, 25, 26, 31 July and 1, Sat 2 August 1986
Three copies donated by Simon Tompsett 26 March 2013. Also one flyer. Photos offered for scanning by Beryl Nairn 11 February 2014. See YMP/B/13/3 for
1987 equivalent
production when the New Testament up to The Passion was also performed.
God: Charles Kightly
Lucifer: Brian Higginson
Gabriel: Neville Hobson or Simon Tompsett
Adam: Mark Briggs
Eve: Susie Rathbone
Boy: Rachael Nitz
Cain: Alistair Bridges
Abel: Tim Holman
Noah: Larry Coles
Mrs Noah: Beryl Nairn
Abraham: Roger Farrington
Isaac: Mark Bridges
Mary: Ruth Garside
Elisabeth: Penny Crocker
Joseph: Steve Armstrong
Herod: Brian Higginson
Knights: Alistair Bridges, Mark Briggs, Alan Mortimer
Counsellor to Herod: Beryl Nairn
Messenger: David Haworth
Kings: Larry Coles, Jane Howell, Tim Holman
Shepherds: Adrian Morris, Roger Farrington, Alan Mortimer
Mack: Jeremy Clarke
Mack's WIfe: Lyn Wait
Women: Fiona Armstrong, Penny Crocker, Hilary Moxon, Tina Wright
Musical Director: Tim Bayley
Musicians: Tim Bayley, Steve Thompson, Anthony Barton, James Lancaster, Bob Scott
Stage Managers: David Haworth, Rachael Nitz
Designer: Caroline Hollway
Lighting: Tim Haunton
Banners by David Haworth, Rachael Nitz
Props by David Howell, David Haworth, Rachael Nitz
Costumes: Helen Taylor, Liz Garland
Folklore adviser: Charles Kightly
Dance Teacher: Ray Barker
Noah's Ark being built: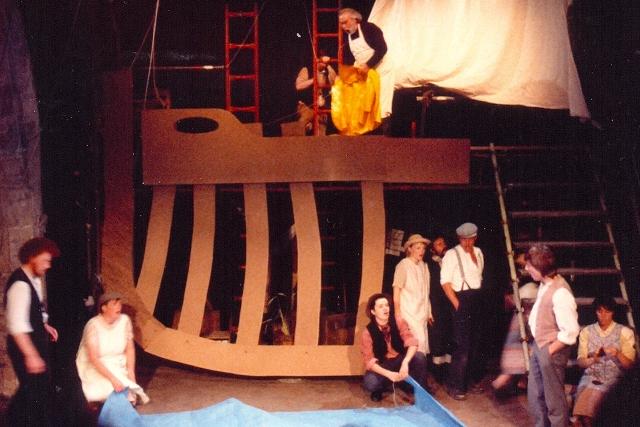 < Go back