Search the NCEM archive
Item details
Press Cuttings : Articles 1998: Charles Hutchinson
Item type:
Press Cuttings
Archive reference:
YMP/F/16/4
Date/year:
July 1998
Description:
Charles Hutchinson writes in
York Evening Press
.
On 7 July 1998, a generally favourable review, The Life of Christ, of Ray Alexander's wagon play production that year, in the
York Evening Press.
On 13 July 1998, an overview of the 1998 wagon plays, with four photographs by David Harrison:
1. Christ on the cross; Chloe Oakes as Mary and Julian Rendall as Christ.
2. Julian Rendall as Christ carrying the cross down Parliament Street.
3. Richard Batty as Pilate addressing the crowds.
4. Crowds in rain at Dean's Park watching the Last Judgement.
Here is a photo of that 1998 audience.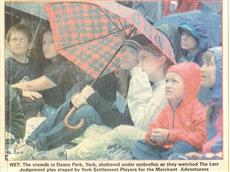 < Go back