Search the NCEM archive
Item details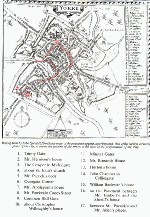 Map of York by John Speed, 1610, with wagon route superimposed.
Click to see larger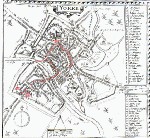 The 1610 York map by John Speed without the modern key.
Click to see larger
Maps : John Speed's 1610 map of York
Item type:
Maps
Archive reference:
YMP/P/1
Date/year:
1610
Description:
Pageant wagon route superimposed onto the 1610 map by Speed (version held in the Brotherton Library, Leeds) by Eileen White in her book 'The York Mystery Play', page 21. Published by YAYAS.
< Go back