Search the NCEM archive
Item details
Photographs : 2010 Wagon Play - Christ going to Calvary
Item type:
Photographs
Archive reference:
YMP/A/3/3/1
Date/year:
2010
Description:
This is a photograph from the 2010 wagon play productions, here performed in the Dean's Park. Christ is on his way to Gethsemane, with the heavy cross. He has fallen down and the cross has been picked
up by Simon of Cyrene (in orange). A soldier is abusing Christ, lower down on the road/ramp. The play is
'The Shermens pageant of Christ, Cruelly beaten and led up to Calvary',
brought forth by the
Company of Merchant Taylors
.
Artistic Director Lindsay Ibbotson,
Pageant Master Alan Appleby.
Jesus - Robert Goldsborough
1st, 2nd soldiers - Brett Nesfield, Robert Watson
Sir Wymond and 3rd soldier - Trevor Gill
John - Nick Ibbotson
Mary, Jesus' Mother - Pam Jackson Vickers
Mary, James' Mother - Claire Mollan
Mary Magdalen - Helen Jarvis
Simon of Cyrene - Anthony Dixon
Street Children - Jack Nesfield, Ruby Miller, George Porter, Anthony Willsher .
Crowd from Boroughbridge High School and the Company of Merchant Taylors
Here is another picture from the previous scene, in the Garden of Gethsemane, where the Apostle Peter has become angry at the arrest of Jesus. Mike Tyler as Jesus steps in to calm him down.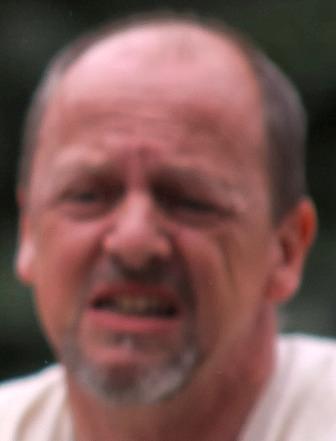 < Go back