Search the NCEM archive
Item details
Delma Tomlin Personal Folder : 1976 Memoire of boy actor Andrew Martin
Item type:
Delma Tomlin Personal Folder
Archive reference:
YMP/O/1/4
Date/year:
2019 about 1976
Description:
Now at YMP/C/3/3 is a memoire written by author Andrew Martin, who at 14 was a boy messenger to Herod, played by Richard Grayson, in 1976 (scan of press image below).
Some Memories of the 1976 Mystery Plays By Andrew Martin
I was always keen on the sound of my own voice. I liked doing school assemblies and nativity plays, and aged about twelve I wrote a letter to the BBC complaining about the standard of the child acting, hoping they'd be provoked into saying, 'Well, can you do any better?' Then, in my fantasy, they'd call me in and I'd be the new Just William or whatever.
So when the Mystery Play auditions were advertised in the Press (I think that's how I heard about it), I went along. The audition was in a long room - the Old Sorting Office (I think it was called) off Lendal. I clambered onto the makeshift stage, which was at one end of the room. The director and her assistant - Jane and Kevin - stood at the other. I remember them both as being very nice and wearing denim from top-to-toe. -From the stage, I called out to them, 'What do you want me to do?' whereupon they looked at each other and nodded. I'd got the part of Herod's Messenger simply because they could hear me speak.
I think there were three children's parts. Satan's Little Helper, as it were - I think characterised as Beelzebub - was the biggest; mine was the second biggest, and my friend Paul Walker, who lived in the same street as me, played the unpleasant character who offers Jesus a drink of vinegar on the Cross. Whether that was, strictly speaking a child character, I'm not sure. Paul would have been thirteen in 1976. I never really got to know the boy who played Beelzebub (if I'm right about that being the character name) but he was an excellent actor, and far better, I thought, than the juvenile players on TV.
We rehearsed in the Old Sorting Office, and one day, when we were being fitted for costumes, an interviewer came from radio's Woman's Hour. As I was the only child present at the time, she decided to interview me. Her first question was: 'How do you feel about the fact that the plays are funded by the rates?' I said, 'I didn't know they WERE funded by the rates' at which point she moved on to someone else.
For a dress rehearsal one Sunday afternoon (possibly), we got into our costumes in the Old Sorting Office and walked to the Museum Gardens. It was important to me - given that I was wearing black pixie boots, green tights and a pink smock - that nobody from my rather rough school (Ashfield Secondary Modern) should see me make that walk. As soon as I stepped onto Lendal, I almost bumped into one of the hardest hard knocks in the school. He laughed derisively but there was no significant follow-up at school on Monday morning.
Our dressing room was in the theatre or cinema that was part of the mansion in Museum Gardens. You'll know what I mean. [Tempest Anderson Hall] I spent quite a lot of time there talking to King Herod (Richard Grayson) - who looks amazingly young in the pic the archive has, from the Press. I suppose I thought at the time he was about 50, but he was probably nearer 30. He taught at a private school - English, I think. He told me to listen to Radio Three, which I have done ever since. He (quite rightly) played Herod for laughs and he used to depart from the script - improvise, I mean, including going into the audience and belabouring people with a stuffed cushion-like truncheon. I was not so relaxed, and before I went on for the first time, I thought I was in danger of missing my cue because Herod was having such fun bantering with the audience - at which point I was sick behind a block of stone, the base of a column of the former St Mary's Abbey. I often revisit the site when I'm in York. I think the heat contributed to my nausea. But that was all over very quickly, and I was OK when I went on. Only towards the end of the run did I approach the relaxedness of Richard Grayson/Herod and start to enjoy myself on stage. But off stage, I had a great time throughout, and afterwards, I became a regular on the York am-dram scene. (November 2019)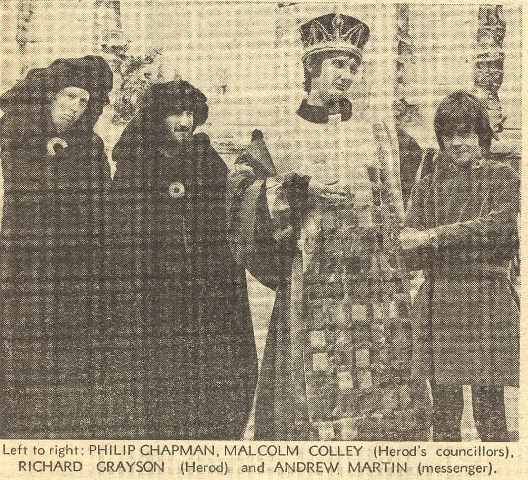 < Go back