Search the NCEM archive
Item details
Delma Tomlin Personal Folder : Diary entry by Darrell Buttery, 1992
Item type:
Delma Tomlin Personal Folder
Archive reference:
YMP/O/5/3
Date/year:
1992
Description:
1992 diary entry by Darrell Buttery (Local teacher, historian, Governor of the Merchant Adventurers of York, who produce the Last Judgement pageant, and later President of York Civic Trust). Photocopy, describing his viewing of the Mystery Plays: the original is in the archive of the Borthwick Institute at the University of York. In 1992 the plays were in the Theatre Royal, a modern-dress production written by Liz Lochhead, with Robson Green playing Jesus. It was controversial, the first time it had been produced in a theatre, and the script was regarded as very long. The programme cover conveys the theme of building - a real worker employed by the sponsors, local company Shepherd builders, features at the left.
This page
of the website lists all the webpages, to help if you are looking for a particular production or theme.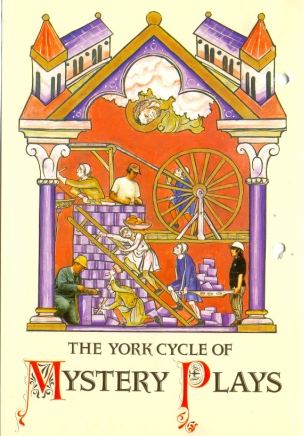 < Go back