Search the NCEM archive
Item details
Photographs : 2014 prediction for 2016
Item type:
Photographs
Archive reference:
YMP/A/17/2/23
Date/year:
November 2014
Description:
Mystery Plays set for Minster return?
A cutting from York
Press
of 3 November 2014, by Mike Laycock, speculating that the Mystery Plays might be performed again in York Minster in 2016, four years after the
2012 production
on a fixed stage in Museum Gardens. Filed with press cuttings for 2014 in YMP/F/31/4. Mike Laycock was right: see
this page.
The
Press
article includes a photograph of Ray Stevenson as Christ in the Millennium Play in the Minster, giving a blessing during Christ's ministry, and on page 5 of the same edition, a photograph of Ray Stevenson, crucified on the Cross, with four disciples looking up at him. This picture is under the Crossing of the Minster.
The 2014 story is the
Press
revealing that the Cathedral officials have been involved in lengthy discussions about the possibility of staging another major production of the Plays in the Minster "possibly in 2016". It says that the 2000 production was intended to be a one-off but after attracting sell-out audiences the Minster decided they should be staged again in 2010. But Tourism body Yorkshire Forward turned down the funding request for that proposal. The article reminds readers that in November 2011 Very Rev Keith Jones, who then chaired the Minster Mystery Plays Board, revealed that because of the economic climate it had proved impossible to be assured that funding was available. The Dean also said that there were anxieties that restoration and construction work at the Minster - which included the creation of a new Piazza at the South entrance - might have clashed with the event. That work was completed in 2013.
In the meantime the Guilds, companies and groups of York successfully staged the plays on pageant wagons at several spectacular outdoor locations across the city centre in July 2014.
See
this page
for photos of the Millennium production in the Minster.
In the event, under Dean Very Rev. Vivienne Faull, the Plays opened in York Minster on 26 May 2016 and ran for 41 wonderful performances.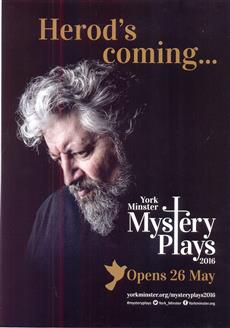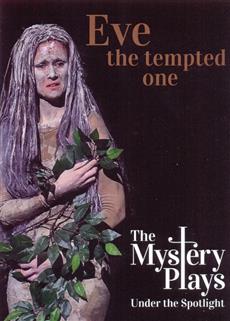 The
next performances
were wagon plays by the Guilds on 9, 12 and 16 September 2018.
.
< Go back