Search the NCEM archive
Item details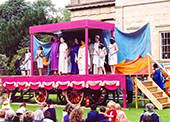 Moses and Pharaoh.
Click to see larger
Photographs : Moses and Pharoah wagon play
Item type:
Photographs
Archive reference:
YMP/A/21/6/5/2
Date/year:
2002
Description:
In 2002 the Plays were performed on Wagons. This scene from the Old Testament is relatively infrequently performed. The photograph was taken by Kippa Matthews, a York photographer who made the coverage of the Mystery Plays somewhat of a speciality.
The Company of Merchant Taylors that year produced the Hosiers' Play of Moses and Pharoah. Here is a link to an
archived website.
The Merchant Taylors have produced other plays in other years.
Wagon Master:Keith Musker
Wagon Team:John Musker, Mathew Thompson, Thomas Brooks, Kevin McManus, Alan Brilly, Martin Hofschoerer, Miles Wymark-Hoar, Cory Mason
Director:Ged Cooper
Assistant Director:Esther Steven
Set Design:Alan Appleby
Set Construction:Rick Baker, Ryan Cook, Jason Haslegrove, Joyce Sanderson
Scenery:David Sharpe with Kathy Chen, Erin Collins, Sophie Mackfall, Ruth Woods
Music Director:Kate Vernon-Rees
Costumes:Jenny Olsen, Sarah Rawcliffe
King Pharaoh:Will Roberts
God:Robyn MacNamara
Moses:Cordelia Mitchell
1st Counsellor:Jenny Nobbs
2nd Counsellor:Patrick Hannon
1st Hebrew:Hannah Gath
2nd Hebrew:Sonia di Lorenzo
3rd Hebrew:Katherine Ekers
1st Egyptian:Holly Bonarius
2nd Egyptian:Gemma Whitehead
Egyptian Soldiers:Ted Ralph, Oliver Gell, Michael Lawton, Tristran Fayers
Trumpeter:Nick Wallen
Drummer:Stephen Brown
< Go back