Search the NCEM archive
Item details
Film : 2000 Mystery Plays Video
Item type:
Film
Archive reference:
YMP/D/4
Date/year:
2000
Description:
An archival video was recorded in VHS format of the Millennium production in York Minster in 2000, directed by Greg Doran. The NCEM has hopes of converting it to DVD format when funds permit.
Here is a backstage photo from that year. The doves will go into Noah's Ark. The window is the famous Five Sisters window in the north aisle of the Minster.
This page
of the website lists all the webpages to help you navigate to find a particular theme.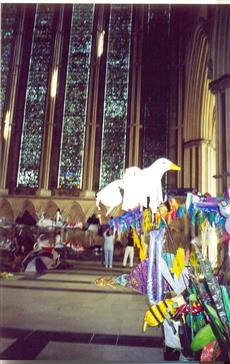 < Go back