Search the NCEM archive
Item details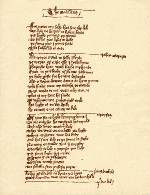 Mystery Plays Programme
Click to see larger
Programmes/Posters : 1951 Programme - cast list
Item type:
Programmes/Posters
Archive reference:
YMP/B/1/4
Date/year:
1951
Description:
The York Cycle of Mystery Plays programme 1951. Contents below, image of outside aside. This cover reproduces a page from the British Library text. Subsequent programmes used the same image, until the 1960s.
Producer: Martin E. Browne
Associate Producer: Henzie Raeburn (m. to Martin Browne)
Stylised Movement and mime: Geraldine Stephenson
Designer: Norah Lambourne
Musical Director: Allan Wicks
Artistic director of the Festival: Keith Thomson
CAST
God the Father: [uncredited in programme]
Archangel Michael: Tenniel Evans
Archangel Gabriel: David Giles
Lucifer (Satan): John van Eyssen
Belzabub: Peter Ellis
Belial: Tony Haigh
1st Devil: Donald Howarth
2nd Devil: Tom Bell
Adam: Kenneth Parsons
Eve: Joyce Rankin
Mary: Mary Ure
Joseph: Leonard Pickering
Shepherds: Philip Hainsworth, Gordon Langsford, Richard Vivian
Kings: Edward W. Robinson, Nicholas Crosse, Kenneth Vaughan Jones
John the Baptist: Harry Beety
Angel: Sheila Ross
Jesus: [uncredited in programme: Joseph O'Conor]
Jews: George Little, Raymond Linden
Doctors: Alfred Bristow, Theo Bruce
Martha: Gwenda Cotton
Mary Magdalene: Henzie Raeburn
Mary of Bethany: Eliner Rutherford
Lazarus: Dudley Foster
Messenger: Philip Clarke
Keeper of the Gates: Claude Oglethorpe
Poor Woman: Lilian Pickering
Blind Man: Donald Barlow
Lame Man: Michael Underwood
Zaccheus: Wilfrid Loftus
Peter: John Bosomworth
Citizens: George Taylor, Theresa Green, Gordon Willet Bakke, Kathleen Clarke, Eileen Skaife, Leslie Warters, Alexander Robinson
Burghers: Raymond Quirk, Alwyn Wood, John Nicholson, Hubert Dryland, Benjamin Mein, Jack Clemo
Judas: John Heu
Caiaphas: John Kay
Portress: Barbara Hughes
Malchus: Richard Vivian
Annas: Reginald Dench
Pilate: Alec De Little
James: Hardo Milner
John: Fred Richardson
Percula: Pat Broadhurst
Pilate's Son: Andrew Staines
Maid: Monica Perry
Beadle: Leonard Pickering
Barabbas: James Scott
Centurion: William Dallas
Roman Soldiers: Oswald Heppell, Richard Roberts, George McClenaghan, Brian Jenkins, Jack Clemo, Frank Barber, Eric Scrase, Bruce Wollerton
Boy at the Cross: William Leach
Simon of Cyrene: Richard Morton
Mary Cleopas: Esme Church
Joseph of Arimathea: Gordon Langford
Nicodemus: Philip Hainsworth
Isaiah: Kenneth Vaughan Jones
Simeon: Edward w. Robinson
David: Nicholas Crosse
Angel of the Resurrection: Martin Johnson
Thomas: Robert Grant
Herald: Alfred Bland
Angels: Christine Baker, Jean Chapman, Judith Dench, Sheila Dodd, Susan Dodsworth, Sheila Hancock, Sheena Mitchell, Robina Parker, Phyllida Walker
Devils: John Broomhead, Allan Brown, Richard Clark, Roger Kirkus
Apostles: Michael Rusholme, William Shorer, Roland Bentley, Anthony Lukza, Nigel Laird, Alfred West
Herald: Detective A Bland
Citizens and countryfolk: Ann Agate, Georgina Bickerdike, Hilda Bristow, Allison Brockbank, Pat Butters, Bryony Cadbury, Norah Christie, Audrey Cobb, Audrey Elliott, Jean Farnworth, Jean Gardner, Marie Holdridge, Elsie Horsley, Peggy Ings, Shirley Jeaffreson, Annette King, Gillian Lewis, Constance Mason, Margaret Mein, Ann Metcalfe, Eleanor Milner, Julia Morpurgo, Frances Outhwaite, Sybil Ruegg, Erla Shorer, Edith Steel, Barbara Theakstone, Jan Tinsley, Rita Varlow.
B. Appleyard, D. Bowes. W. Bradley, R. Briggs, M. Crowe, A. Garrod, R. Greenwood, M. Hick, A. Jackson, M. Kelsall, B. Lamb, M. Lund, J. Pumphrey, D. Rathmell, G. Ritchie, W. Shaw, P. Smith, D. Walker, F. Waslin, F. Waudby, J. Weightman, M. Whiteman.
School Children (taken from rehearsal schedule):
Bryony Cadbury, Jean Gardner, Anthony Gassod, Anthony Isherwood, Shirley Jefferson, Michael Kelsall, Annette King, Michael Lund, David Rathmel, Gada Richey, Peter Smith, John Weighman,
Students of the Northern Theatre School taking part: Alethea Charlton, Wynne Griffiths, Gillian Jones, June Kearsley, Eva Michelson, Ida Payman, Joan Pickering, June Purdy, June Robinson, Maire Virgo, Jennifer Wallace, Pamela Weekes, Nicholas Evans, Brian Lawson, James Scott, David Wright.
Music for the Mystery Plays:
Instrumentalists: Messrs. Bacon, Fawcett, Field, Gowland, MacDonald, Read, Sugden and Walsh.
Choir: Mesdames Allinson, Ayers, Clarke, Chambers, Dawkins, Gledhill, Holt, Haw, Huntingdon, Jessop, Long, Mason, Severs, Ward, and Wright.
The Misses Benson, Briddon, Atkinson, B. Clarkson, J. M. Clarkson, Betts, Entwistle, Durkin, Huntingdon, Manners, Parker, Schofield, Rhodes, Stannard, Storey, Tavinder and Webster.
Messrs. Burrell, Coulsen, Hart, Duxbury, Appleby, Harrison, Jones, Mirfin, Rayson, Rickell, Knight, Mason, P. Mason, Milner, Sargeant, Wilson and Wright.
Stage Director: William Pickering
Stage Manager: Edward Scurr
Assistant Stage Managers: George Duncombe, Wilfred Newby,
Wardrobe Mistress: Olave Dench
Assistant to the Producer: Ruth Thomson
Property Mistress: Kathleen De Little
Front of House Manager: Allan Massey
Deputy Front of House Manager: Fred Ridsdale
Scenery built by Culliford and Son, and H. B. Raylor and Company Ltd; painted by John Russell
Wigs by 'Wig Creations' and "Bert"
Special Effects and lighting by the Strand Electric and Engineering Company
Stands built by H. B. Raylor and Company Ltd
"
< Go back