Search the NCEM archive
Item details
Press Cuttings : 2022 cuttings
Item type:
Press Cuttings
Archive reference:
YMP/F/11/29
Date/year:
2022
Description:
Under the heading 'Press Cuttings' are some more from 2021 and 2022
.
See also 2022 Wagon Production.
8 April 2022
, York
Press
page 5, about the
Wagon Plays
in York this year:
Mystery Play actors required. York Mystery Plays Trust play Director Paul Toy will hold auditions at Bedern Hall for actors and musicians, and hopes to hear from people interesting in preparing the stage /wagons and finding propos. Plays will be performed on Sundays June 19 and 26, beginning at 11am on College Green; and on 22 and 23 June at 8pm in Shambles Market.
11 May 2022
Yorkshire Post
page 13 "New era for Historic Hall". Photo of Dr Delma Tomlin MBE outside the NCEM, long article about Delma as first woman Governor of the Merchant Adventurers. Says she "came to York in the 1980s when the organisers of the famous Mystery Plays asked if she'd be interested in taking over as administrator."
24 May 2022
York
Press
page 12 "Andrew's memoirs bring Andrew back to the city" . Picture of author Andrew Martin about his new book
Yorkshire There and Back
, about growing up in York, living away and returning. He refers to 1970s York, when he performed in the Mystery Plays as a boy messenger. archived in YMP/F/ 37 with other 2022 cuttings. He wrote a memory piece about acting in 1976, available
here.
Later cuttings explain that for the Shambles evenings, Mick Liversidge will play Satan.
Yorkshire Post

18 June
"Wagons roll in for moveable feat of history" by Ruby Kitchen. A very positive and accurate description of the Plays and the wagons, interview with Roger Lee, a colour photo of him outside York Minster, plus one of Ray Stevenson in 2000, a giraffe from that Minster production and a small round image from 2018 in the Shambles Market. From the
Yorkshire Post
of 10 December 2022 is a cutting about the Nativity Plays, right. For the cast list, see
this page
.
F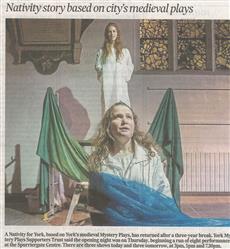 or photographs of the 2022 wagon plays, see
this page.
< Go back