Search the NCEM archive
Item details
Press Cuttings : 2022 Wagon production
Item type:
Press Cuttings
Archive reference:
YMP/F/11/27
Date/year:
2022
Description:
The Guilds of York produced wagon plays on the streets of York on 19 and 26 June 2022. All the performers and production teams are volunteers with funds from grants and donations. The York Waits and the Town Bands from Leeds, Doncaster and beyond led the wagons through the streets to the various playing stations.
Locations:
College Green, St Sampson's Square, St Helen's Square, the King's Manor. Also Shambles Market in the evenings of 22 and 23
June, when Mick Liversidge played Satan, below. A selection of
photos from June 2022 on this page plus a link
to a film of the Last Judgement.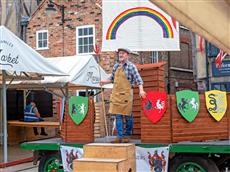 The Creation of the World
, directed by Janice Barnes-Newton on behalf of the York Guild of Builders.
God/Yorkshire Lady: Jodie Fletcher; God/Yorkshire Gentleman Daniel Wilmot
Minstrel: Jonathan Brockbank
Flock (sheep, spirits, devils): Izzy Bradley, Patricia Campbell, John Davies, Wilma Edwards, David Harrison, Dilwyn Jones, Colin Lea, Harold Mozley, Janice Newton, Keith Rowan, Sandra Rowan, Emma Scott, Joan Sinanin, Lisa Valentine, Sam Valentine. Music and choreography Janice Newton, Production Manager: David Harrison, Wardrobe Mistress: Sandra Rowan, Props: Anna Briggs; Transcription: David Hammond
The Fall of Adam and Eve
, directed by Bex Nicholson, with Gild of Freemen and Vale of York Academy.
Adam: Archie Barnes; Eve: Olivia Pool; Satan: Leila Wright; God: Mia Bedingham. Set and Wagon Master: Brian Hughes

The Building of the Ark and the Flood
, directed by Paul Toy, with Cordwainters Guild and York Mystery Plays Supporters Trust.
God: Tony Froud, Noah: Maurice Crichton, Mrs Noah: Helen Wilson, Son 1 and wife: Michael Mayer, Megan Ollerhead; Son 2 and wife: David Denbigh, Bronte Hobson; Son 3 and wife: Frankie-Jo Anderson and Harriet Hope. Ensemble: Christopher Swift, Helen Jarvis, Julie Speedie, Lucinda Rennison, Sue Harris, Dario Labrador, Lazaro Labrador. Set design and Wagon Master: Richard Hampton, Props (inc. animal shields): Frankie Hayes, Costumes: Judith Ireland, Production Co-ordinator: Simon Tompsett, Props/set/costume Assistants: Helen Jarvis, Nick Jones, Chris Mackins.

Herod and the Three Kings
, with St Luke's Church directed by Dr Mike Tyler and Lesley Wilkinson. Waggons provided by St Luke's.
Herald: Lesley Wilkinson, Herod: James Tyler, 1st soldier: Colette Longbottom, 2nd soldier: Elaine Hill, Herod's Son: Jack Hoyland, 1st King: Mark Comer, his Attendant: Sally Maybridge, 2nd King: Mike Tyler, his Attendant: Gillian Tyler, 3rd King: John Tuffen, His Attendant: Matthew Warry. Messenger: Alessandro Girotto, 1st Counsellor: Lynn Comer, 2nd Counsellor: Sheila Dunn, 3rd Counsellor: Jim Banks, Handmaids: Vanda Nendick, Niamh Hoyland, Virgin Mary: Mary Halliday, Joseph: Andrew Snedden, Angels: Helen Warry, Phoebe Poer, Singing Angels: Alison Bayliss, Jenny Gwynne, Sarah Robinson, Barbara Smith, Bronwen Tuffen, Singing Townsfolk: Hattie Leigh, Paola Longato, David Rushton, Ted Schofield, Jositha Senthil Kumar, Poorvika Senthil Kumar, Rakshika Senthil Kumar, Susannah Thorne, Alice Tuffen, Liz Village, Laura Wood. Wagon and set construction: Mark Comer, Steve Adams, Ted Schofield, Costumes: Lynn Comer, Lesley Wilkinson, Music: Helen Warry, Production Manager: Gillian Tyler

The Last Supper
, directed by Emily Hansen, produced by the Guild of Merchant Taylors with the Lords of Misrule.
Jesus: Zach Wesley; Judas: Allyson Butler; John: Amy Burcher; Peter: Isaac Lawton; Andrew: Isobel Azar; Thomas: Ross McIntire; James: Tim Wingard; James the Greater: Abbie Evans; Philip: Ellie Leeson; Bartholomew: Isobel Staton/Alex Nicholls; Marcellus: Jocasta Hornsey; Simon: Tom Ollivier; Matthew: Emily Hansen. Director: Emily Hanson; Props: Isobel Staton, Alex Kiddier; Music: Chantal Berry, Abbie Evans, Emily Hansen, Jocasta Hornsey, Ellie Leeson, Ross McIntire, Tom Ollivier, Isobel Staton, Zach Wesley, Tim Wingard

The Crucifixion and Death of Christ
, directed by Jared Moore and Kelvin Goodspeed, with Riding Lights Acting Up and the Company of Butchers.
Persons of the Play: Matthew Bond, Florene Elkan, Edryd Goodspeed, Joel Halliday, Freddie Harper, Alicia Harrison, Ewan Howarth, Bayley Simpson, Joel Simpson, Andrew Silk, Eve Wheeler. Team: Rachel Wall, Rosie Batey, Ruth Gould, Rob Gooch, Bernadette Burbridge, Erin Burbridge, Paul Burbridge.
Appearnce of Christ to Mary Magdalene in the Garden
, directed by Jess Murray with the Guild of Media Arts and the Guild of Scriveners.
Mary Magdalene: Joy Warner; Jesus: Matthew Lomax; Wagon Master: Tony Botting; Sets: Geoff Theaker, Stephen Palmer

The Last Judgement
, directed by Alan Heaven for the Company of the Merchant Adventurers of York. Can be seen on Youtube, as at the bottom of
the page
.
God: Diane Heaven; Jesus: Wren Crawford - below. Angels: Tina Lind, Tracy Morris; Angel of Death: Megan Heywood; Devils: Adam Hall, Natty Browning, Steve Ellis; Hellhound: Lewis Watkin, Steve Ellis; Damned and Saved Souls: Martin Lindsay, Annevay Heaven, Ash Pope, Colin Pope, Jayne Pope,Grace Morris, Heather Young, Helen Harrison, Jon Watkin, Julia Watkin, Matthew Booker, Rachel Curnow, Sue Curnow, Will Sowden. Musicians: Petra Wade, Alan Heaven; Wings and Banners: Les Curnow, Lucy Johnson; Wagon Master: Tristan Heaven; Set Designer: Steve Ellis; Music: The Bertie Set; Costumes: Miffie Dolls and members of the cast; Transport: Jenni Bartram; other support: Ravens Morris, Working for Health CIC.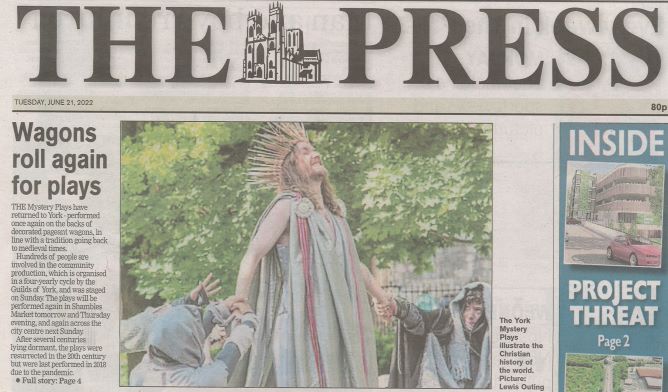 < Go back