Search the NCEM archive
Item details
Programmes/Posters : Cast list 1976
Item type:
Programmes/Posters
Archive reference:
YMP/B/10/1/2
Date/year:
1976
Description:
1976 Cast and production team list.
Cast (in alphabetical order):
Roger Amistead (Disciple/Thief on the Right), Barbara Askham (Angel at the tomb), Gillian Banks (wife to Zaccheus), Marjorie Barker, Eva Bauer, Stephen Beedle, Julie Bennett, David Benson, Jean Bilton,, Rosalind Bohn, Margaret Bovingdon, Kari Bowman, N. H. Bowes,
David Bradley (Christ)
, Tracy Bremhell, Harry Bridge (Joseph, Disciple), Ken Brown (King/Disciple), Debbie Bucknall, Tony Bullen (Marcellus), Phillip Cambridge (Messenger to Mary and Martha/Pilate's Son), Margaret Carney, Simon Caporn (Abel/John), Phillip Chapman (Jewish Soldier/Lame Man/Herod's Counsellor), Sally Cooper, Eleanor Cosgrove, Sybil Corkhill, Debbie Coulson, Nicholas Craig, Philip Crook (Lucifer's Angel/Roman Knight/John the Baptist), Steve Crossley, Vivien Cummings, Hugh Curriston (Pilate's Beadle) Geraldine Davies (woman in the pub), Angela Doig, Betty Doig (Mary the Mother), Fiona Doig, John Doig, Leslie Doig, Ruth Doig, Rosemary Erde, Neil Eshelby, Mary Eyeington (Gabriel), Roger Farrington (Roman Knight, Jewish Soldier, Shepherd, Lucifer's Angel), Jacqueline Firth, Stephen Flanagan, Ruth Ford (Mary Magdalen), Margaret Fox (Veronica/Mary's Maid/Angel Seraph/Mary of Bethany), Hilary French, Sharon Friend, Betty Gabrielow, Simon Gabrielow, Zigmund Gabrielow, Joanna Gardiner, Peter Garrett, Michael Gibson, Warren Girling, Linda Graham, Teresa Grange, Annie Gray, Richard Grayson (Herod), Joanna Greves, Mike Haining (Simon of Cyrene/Porter to Caiaphas/Jewish Soldier), Joy Haldenby (Angel at the Tomb), Azra Hameed, Lisa Hardy, David Harrison (Blind Man/Thief on the Left), Jane Hayton, F Helm, Margaret Hewes, Lesley Hick, Katie Hieron, Dave Hill (Michael/Pilate), Jane Hobson, Angela Holmes (Lady Percula), David Holmes, Tracey Hopps, Glen Hull, Christine Hurst, Christine Jackson, Peter Jackson (Peter), Joyce James, Julia Jason, Paul Jesson (Shepherd/Judas/Herod's Knight), David Johnson (Disciple/Burger/God), Phyllis Joice, Elaine Kilvington, Denise Law, Gillian Law, Muriel Law, Jennifer Leah (Mary's Maid, Angel Seraph), Dawn Leak, Sheila Leggott (Martha of Bethany), Dani Locker, Melanie Longster (Eve), Ian Lucas, Mrs L. Luxton, Patrick Lyons, Janine MacKenzie, Charles Malarkey, Angela Mannion (Woman in Slaughter), George Mapplebeck (Discliple/Jewish Soldier), Jane Markham, Andrew Martin (Messenger to Herod), R. A. Martinson, Paul Masterson, Mrs A. M. Matheson, Ian McKintosh, Henrietta McBurnley, Janis McNeil, Michael Mellors (Thomas), Angela Michel, Harold Milner (Longeus/Doctor to Caiaphas), Anne Mitchell, Joan Moore-Fay, Neale Murphy, Arthur Naylor (Jewish Soldier/Porter to Jerusalem), Doris Nicholson, Raymond Platt (Lucifer/Annas), D. A. Price, Susan Price, Stephen Purdie, Gillian Rainey, John Ramsden (King/James), Gerrard Reissmann, Victoria Rendle (Maid at Stable), Alice Roberts, Michelle Roberts, Catherine Rodgers, Nicola Rowland, Robin Sangler (Joseph of Arimathea/Malchus/Burger), Alan Scott, Penny Scott, Robert Scott, Edna Shann (Mary Salome), Kathleen Sharpe, Mel Sharpe (Zacheus/Disciple), Duncan Shaw, John Shaw (Caiaphas/Herod's Knight), Diane Sheldon, Nicholas Shepherdson, Olga Shepherdson (Wife to Marcellus/Woman in Slaughter), Roy Simpson (Barabas/Shepherd), Eileen Skaife (Elizabeth), Garry Smith, Noel Stabler (Disciple), Miss V. Steeples, Helen Swanton, Andrew Taylor, Lesley Thackeray, Diana Thomson, Moira Thompson, Alistair Thompson, Angus Thompson, Rachel Thompson, Marilyn Tulloch, Paul Walker (Boy at the Crucifixion), Doreen Wallace, Patrick Wildgust (Adam/Roman Knight/Lazarus), Julia Williams, Moira Williams, Charlotte Wilson, Mrs. H. Wilson, Violet Wood, Christ Woodcock (Beelzebub/Roman Knight/Jewish Soldier/Cain), Alison Woodworth, Suzanne Woodworth, Jo Woollons (Mary), Mrs. M Wright
Stunt men: Private Frank Bird, Queen Elizabeth Barracks, Lance Corp. Danny Evans, Queen Elizabeth Barracks
Director:Jane Howell
Assistant Director:Kevin Robinson
Designer:Hayden Griffin
Assistant Designer:Shawn Kerwin
Costume Design:Carol Lawrence
Lighting Design:Rory Dempster
Costume Supervisor:Barbara Painter
Music:Edward Gregson
Musical Director:Alan Gout
Stage Manager:John Dickinson Assistant Stage Manager:Mike Halford
Technician:Peter Hunt
Music performed by:Rowntree Mackintosh Works Band (conductor Don Carson), York Citadel Salvation Army Band (conductor Terry Neilson), York Railway Institute Band (conductor Ted Pratt), York Celebrations Choir (chorusmaster John Warburton) under the direction of Alan Gout
Front of House Manager:Mr A. R. Pickering, Deputy Front of House Manager: Mrs. E. M. Farnworth
Assistant House Managers:Mr. T. Bardy, Mr. P. N. Wilmott
Many other people credited, including Wardrobe Assistants, techical staff, property staff, and the pupils from several schools.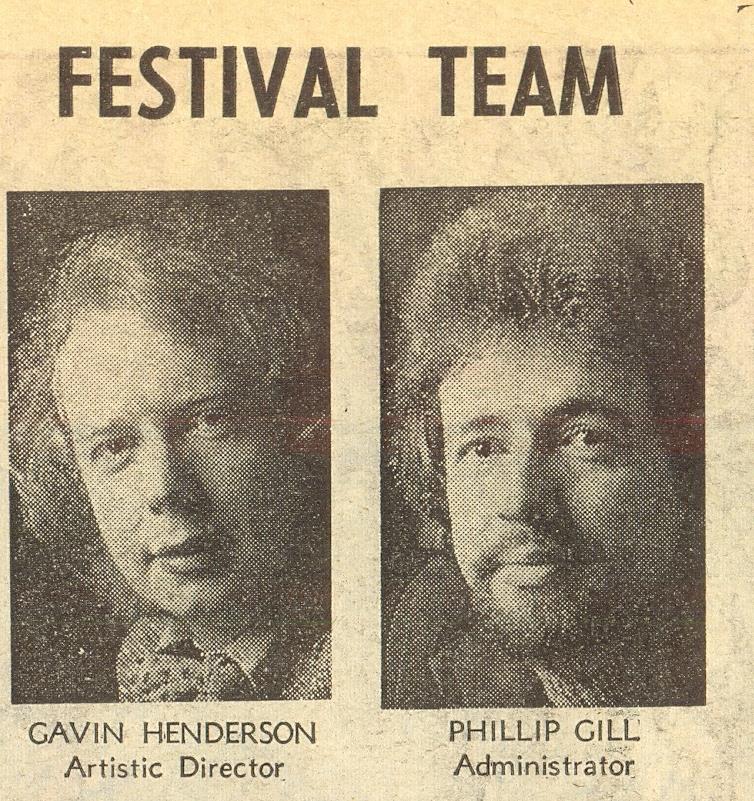 < Go back