Search the NCEM archive
Item details
Press Cuttings : Guide to Festival '69
Item type:
Press Cuttings
Archive reference:
YMP/F/7/1
Date/year:
1969
Description:
Evening Press
Guide 'Festival '69' to the York Festival 1969. 16-page preview of the York Festival (June 20-July 13) and the Mystery Plays. Several articles pertinent to the Mystery Plays.
Page 1. Illustration: Christ (Peter Blanshard) carries the Cross to Calvary, watched by a crowd. This and other images from the 1969 production was taken by George Hendrie.
Page 2. Councillor Jack Wood, chairman of the Festival Committee writes about the Festival and the Plays
Page 3. 'The Mystery Plays's age-old message shines through' by Vivian Brooks; illustration with caption: 'Joseph O'Conor (Jesus) and John Van Eyssen (Lucifer) in the 1954 plays'
Page 4. 'All-amateur plays are first since 16th century' by Edward Naylor who discusses his approach to the Mystery Plays; 'Pupils will present the wagon play'; illustration with caption: 'Gerry Lomas portrays God in Heaven in this striking picture from the Mystery Plays.'
Page 5. Professor Wilfred Mellers of the University of York writes about the festival music
Page 16. Advertisement for the Yorkshire publication
Art Scene
shows temptation of Eve by Lucifer.
Here is a nostalgic photo from page 3 of the paper, which is captioned: 'Memories of the 1951 Festival are recalled in this article, such as this picture of illuminated boats on the River Ouse.' The quality of the picture (and therefore the scan) is not brilliant.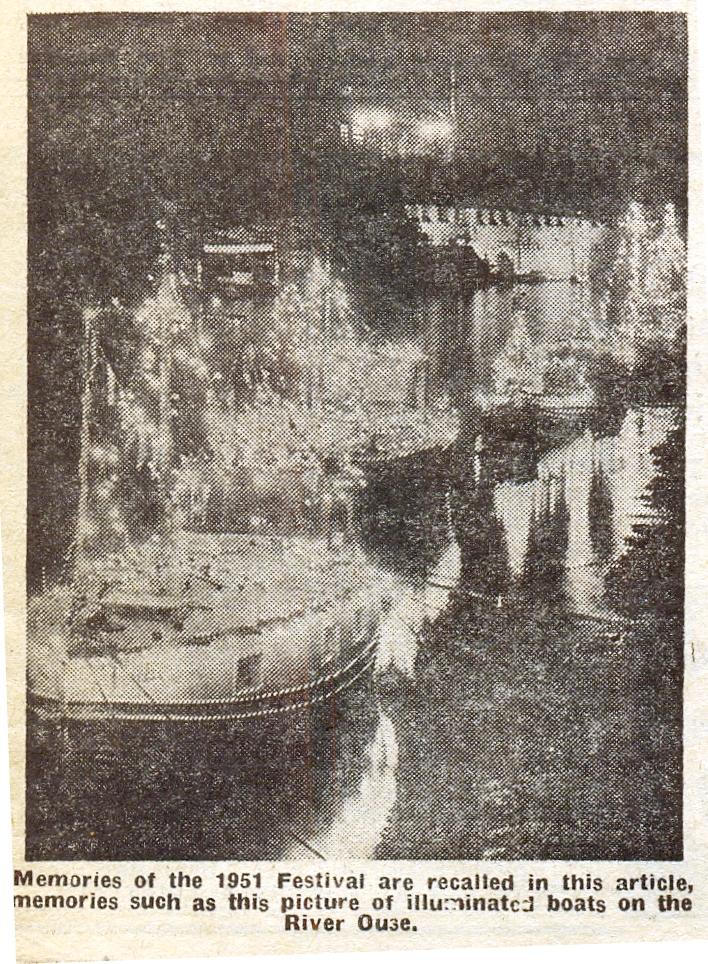 < Go back