Search the NCEM archive
Item details
Programmes/Posters : Souvenir Programme 1994
Item type:
Programmes/Posters
Archive reference:
YMP/B/15/2
Date/year:
1994
Description:
York Mystery Plays '94 Souvenir Programme. Price: 80 pence. Presented by the Friends of York Festival in association with the Centre for Medieval Studies, University of York, as part of the York Early Music Festival 1994. This was the first revival of the wagon plays.
Contents include: Introduction by David Wilde and Judi Dench; commentary by Jane Oakshott; description of the music by Richard Rastall; main programme; who's who section.
Director: Jane Oakshott
Musical director: Richard Rastall
Wardrobe: Betty Doig
Technical manager: Bob Olson
Associate director: Rachel Semlyen
Administration: Edna Ward, Ursula Groom, Louise Keegan
Play 1: The Shipwrights' Play: The Building of the Ark. Brought forth by the Centre for Medieval Studies, University of York. Cast:
God: Richard Coyle
Noah: Malcolm Morris
Noah's sons: John-Paul Cherrington, Bob Olson, Steve Rutherford
Set: Bob Olson, Monica Nelson
Produced by: John-Paul Cherrington
Attendants: Paul Armstrong, Simon Coles, Claire Glossop
Play 2: The Fishers' and Mariners' Play: Noah and the Flood. Brought forth by the Lords of Misrule.
Noah: Martin Bartlett
Noah's Wife: Elaine Campbell
Ham: Brad Dobson
Ham's Wife: Katherine Lewis
Shem: Oz Hardwick
Shem's Wife: Noel James
Japhet: Simon Trafford
Japhet's Wife: Kate Giles
Produced by: David Crouch
Set: Phillip Harris
Attendants: Kate Bould, Pippa Brockington, Marlyne Hemelaar, Arlene McAlister, Lisa Massey, Kim Phillips, Mark Smith, Victoria Thompson
Play 3: The Spicers' Play: The Annunciation and Visitation. Brought forth by the Early Music Singers.
Doctor: Charles Hunt
Gabriel: Paul Dutton
Mary: Emily van Evera
Elisabeth: Anne Cooper
Produced by: Helen Taylor
Set: Tony Bage, Barry Moss, with pupils of Lowfield School
Properties: Amanda Daw
Waggon cloths: Alice Wilding
Attendants: Dunstan Cooke, Hilary Moxon, Linda Terry, Thurston Young
Play 4: The Tilers' and Thatchers' Play: The Nativity. Brought forth by Foxwood Community Centre Players.
Mary: Lynn Bourke
Joseph: Roger Gibbons
Produced by: Sharon Scott
Attendants: John Armitage, Sue Clark, Chris Fowler, Sheila Gibbons, Fran Hicks, Paul Hicks, Lisa Hollingworth, Jean Jameson, Karen Kon, Caroline Lansell, Jon Lansell, Phil Pallister, Jean Scott, Jeremy Tidd.
Play 5. The Chaundelers' Play: The Shepherds. Brought forth by Howdenshire Live Arts.
Shepherds: David Mills, Martin Worthington, David Rubery
Angels: Donald Crewe, Robert Kearly
Cherubs: Claire Buck, Maxine Campling
Produced by: Mike Carter
Set: Pete Arnold, Dave Blee, Pete Railton, Brian Saunders.
Costumes: Susan Buck, Marj Campling
Angels' wings: Lesley Saunders
Wagon skirt: Christ Pimlett
Attendants: Richard Batty, Dave Blee, Richard Blee, Richard Johnson, Rick Kay, Jonathan Kirk, Chris Pimlett, Brian Saunders, Malcolm Smith, Ed Taylor.
Play 6. The Skynners' Play: Entry into Jerusalem. Brought forth by St Luke's Church Players.
Jesus: Mark Comer
Peter: David Titchener
Philip: Doug Begbie
Porter: Michael Tyler
Citizens: Lesley Willkinson, Gillian Tyler, John Mills, Jean Hall, Jenny Skeels, Elaine Titchener, Tony Skeels, Lynn Comer, Trevor Gant
Poor man: Jim Harland
Lame man: Mark Reilly
Zacchaeus: Martin Davies
Disciples: Simon Harrison, David Smallwood, Steve Young
Donkey handler: Louise Fawcett with Thirkleby Ardent Avalon (Lonnie)
Directed by: Philip Cunningham, Mark Reilly
Musical direction: Alison Morse, Margaret Hill
Choir: Heather Burns, Meriel Ensom, Joseph Erber, Helen Harrison, Eleanor Rastall, Hannah Morse, Alison Morse, Victoria Stier
Citizens: Pauline Almack, Janet Begbie, Jenny Carter Shaw, Helen Gant, Ann Mills, Joan Merryweather, Marjorie Sharpe, Madge Turner, Ann Stephenson, Ann and John Stier, Debbie Young
Children: Edward Comer, Natasha Coxon, Thomas Enson, Matthew and Samuel Gant, James and Thomas Tyler, Kimberly and Rachel Young.
Set: Mark Comer, Tony Skeels, Derek Wilkinson
Costumes and banners: Celia Ankers, Lynn Comer, Helen Gant, Marjorie Sharpe, Madge Turner, Debbie and Steve Young
Play 7. The Sherman's Play: The Way to Calvery. Brought forth by the Poppleton Players.
Soldiers: Glen Smith, Nigel Evans, Chris Wilson
Jesus: Brian Graystone
John: John Major
Simon: David Palmer
Holy Mary: Freda Ward
Mary Magdalene: Alison Smith
Mary, mother of James: Joan Swanton
Veronica: Laura Evans
Produced by: Sally Roberts
Banner carriers: Jean Adamson, Helen Evans
Play 8. The Carpenters' Play: The Resurrection. Brought forth by Arts York.
Pilate: Hugh Curristan
Annas: Alan Reed
Caiaphas: John de Frates
Centurion: Tim Holman
Soldiers: Tim Coates, David Gair, Roy Hargrave
Angel: Christy Padmore
Jesus: Anthony Curtis
1st Mary: Ruth Ford
2nd Mary: Helen Wilson
3rd Mary: Shan Edryd
Produced by: Ray Alexander, Inter-Media Theatre Company
Assisted by: Sonia de Passe
Stage Management: Sally Davies, Marianne Powell
Scenic artist: Angela Myers
Properties: Mike Bowen
Costume: Ursula Groom
Play 9. The Weavers' Play: The Assumption of Mary. Brought forth by York Settlement Players.
Thomas: Adam Menuge
Mary: Julia Gregory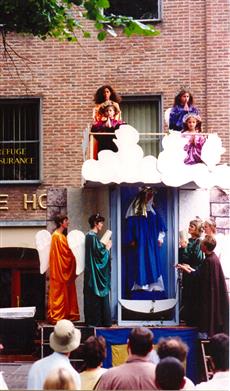 Peter: Peter Bridgewood
Andrew: Dave Parkinson
John: Phillip Harris
Angel Choir: Sally Dunkley, Ruth Holton, Deborah Roberts, Caroline Trevor
Angels: Members of Youth Theatre, Yorkshire
Produced by: Ray Alexander, Inter-Media Theatre Company
Assisted by: Sonja de Passe
Stage Manager: Carol Dutton
Scenic Artist: Angela Myers
Properties: Mike Bowen
Costume: Audrey George
< Go back