Search the NCEM archive
Item details
Press Cuttings : Grapevine Magazine, article on 1992 Mystery Plays
Item type:
Press Cuttings
Archive reference:
YMP/F/13/3
Date/year:
September 1992
Description:
Article from the September 1992 issue of
Grapevine
, the alumni magazine published by the University of York. Pages 16 and 17. Three former University students and three members of staff are named as cast members in the Theatre Royal production. Includes two photographs by Peter Byrne:
1. Crucifixion scene. Caption: 'The Mystery Plays in Modern Dress. Members of the University formed part of a large local cast.'
2. Caption: 'Kate Thomson as Mary with Robson Green as Christ in a scene from this year's Mystery Plays.' In the text she said she had never heard of the actor as she hadn't a TV.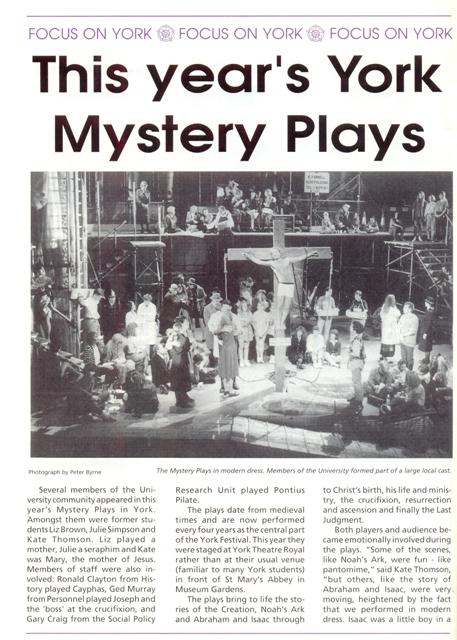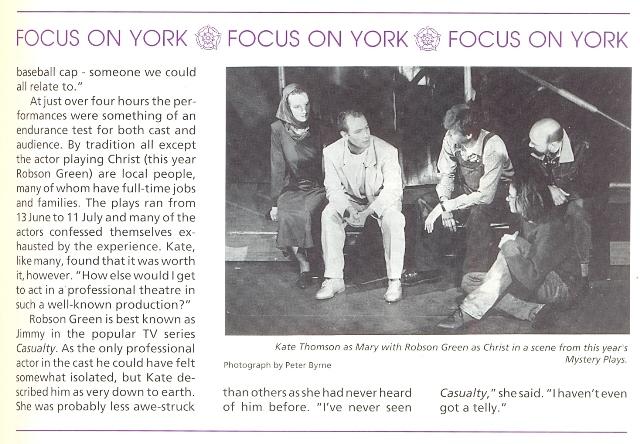 The University's group The Lords of Misrule also performed one of five wagon plays presented in Stonegate and Petergate on 20 and 21 June 1992.

< Go back