Search the NCEM archive
Item details
Programmes/Posters : Programmes
Item type:
Programmes/Posters
Archive reference:
YMP/B
Date/year:
1951 onwards
Description:
The NCEM holds programmes of all of the Mystery Play Cycles performed in York since their revival in 1951. So the archive can identify all actors and crew. The archive also holds a
cast list
, script and illustrated souvenir programme from the 1909 York Pageant, which included the Shepherds Play as performed in the scene set in 1483.
Programmes are filed in the archive under YMP/B, then chronologically - so YMP/B/1 is 1951, YMP/B/2 is 1954 etc. The records include 2021 (
Resurrection
special production) and the 2022 wagon play programme.
Where on the website can I find particular productions
?
The webite has grown over the years. To reduce confusion below is a list of what is attached to each main navigation page, and its number. The page
Share your memories
with us has links.
1 Introduction
216 Share Your memories with us
!
4 What are the Mystery Plays
?
3 In the Beginning: Revival
214 Article Staging the 1951 Play
2 Ancestral Voices
5 A Time of Change
224 A Nativity for York 2019
227 A Nativity for York 2022

6 Wagon Plays
201 Wagon plays August 2012
211 Wagon Plays 2014
212 Cast list of 2014 wagon plays
213 Music at the 2014 Wagon Plays
222 Wagon plays 2018
226 Wagon plays 2022
227 Nativity for York, 2022

40 Music of the Plays
208 Medieval Music
210 2012 Musicians
223 Music of 2018 wagon plays
225 Music of 2019 Nativity Play
8 The Plays Move On
196 2012 Plays, selected photos
200 Cast list 2012 production
209 Article 'Creating the 2012 stage in Museum Gardens'
148 York Minster and the Future
204 Minster Millennium Cast list
187 The People
198 Key Roles and Actors
206 Minster Millennium Production
207 Selected photographs Minster Millennium Production
215/203 Minster 2016 Production
217 Cast List 2016 Minster production
219 Creatives, 2016 Minster production
220 Interviews 2016 Minster production
221 Exhibition after 2016 Plays
188 Archive of Mystery Plays
193 A hidden page containing search gadget for the Archive
199 Photos donated to the Archive
205 Exhibition in 2012 York Explore library about Mystery Plays
216
Share Your memories with us!
189 Contact Us
190 Links to other organisation
191 Supporters and thanks
Professional actors who started their careers in the York Mystery Plays are known to include: Judi Dench, Jane Snowdon, David Bradley, John White (stage name = Richard Conway), Edward Petherbridge, Mary Ure, Janet McTeer, Richard Coyle.
The NCEM would like to extend this list. Below are two images from 1909, published in the York Press in 2023. They show two 'warriors' at the door of the King's Manor, and the grandstand in which the audience sat in Museum Gardens.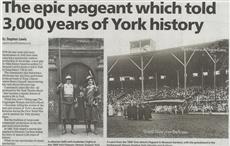 < Go back