Search the NCEM archive
Item details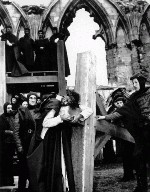 Christ by the Cross
Click to see larger
Photographs : 1960 Christ besides the Cross
Item type:
Photographs
Archive reference:
YMP/A/4/2
Date/year:
1960
Description:
Photograph from the
Yorkshire Evening Press
bearing the caption: 'Scenes from the 1960 production of the York Mystery Plays. This year, the magnificent setting in the ruins of St Mary's Abbey will again be used for the Plays, which tell the story of mankind from the Creation of the world to the Last Judgement.'
Christ (Tom Criddle), wearing the crown of thorns forced on to his head as part of the persecution, stands and leans his head on the Cross. Stored as YMP/A/4/2.
< Go back