Search the NCEM archive
Item details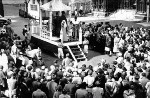 The pageant play - Christ before the Elders
Click to see larger
Photographs : 1960 Wagon Play Christ before the Elders
Item type:
Photographs
Archive reference:
YMP/A/4/1
Date/year:
1960
Description:
Photograph from a cutting from the
Yorkshire Evening Press
14 June 1960. Caption: 'The pageant play 'Christ before the Elders' was performed before a large crowd in front of York Minster last night. (See report on Page Six.)'
Shows Mary (Anne Dandy or Christabel Marshall), Joseph (Robert Wilkins or John Faulkner) and Jesus (Nicholas Edwards) at the front of the stage. At the rear stand what appear to be the three doctors (Peter Darbyshire, Peter Thorndyke, Stephen Griffiths). The wagon stands between Dean's Park and the main entrance to the Minster.
At this point the main cycle of plays was performed in Museum Gardens with a wagon play of one scene additionally, led by Archbishop Holgate's school.
NCEM has the programme of this single play, filed at YMP/4/2
< Go back