Search the NCEM archive
Item details
Press Cuttings : 1957 Press Cuttings
Item type:
Press Cuttings
Archive reference:
YMP/F/3
Date/year:
1957
Description:
Eileen Skaife (who played Woman by the Fire) kept cuttings in her 1957 scrapbook about the plays.
For a cutting about selected actors recording part of the Plays for the Home Service, see
1957 Scrapbook
.
Below is a cutting about that year's wagon play, organised by teacher Stewart Lack, who played God. (He also played Peter in the main pageant.)
Heading:
Exodus entertains York crowds
"Crowds soon gathered at the West Front of York Minster on Monday evening for the first performance of the Pageant Play
The Exodus
, which is being given every night during the Festival there and at the second 'station' in Kings' Square. For a moment medieval pageantry and colour returned to the streets of York - with the proclamation read by a mounted herald (Police Constable A. E. Sykes) accompanied by a number of attendants and with the colourful yet simple setting on the wagon. The three masters and boys of Archbishop Holgate's Grammar School presented a remarkably competent production which brought back some of the original spirit of the plays. Time and scene are changed rapidly as the play moves from Pharoah preparing to repress the Jews to Moses' warning from God, on to the plagues on Egypt and finally to the drowning of the Egyptians in the Red Sea. Kenneth Parsons is a commanding Pharoah and Michael Vonberg is good as the more simple yet strong character of Moses. Stewart Lack plays the part of God. The parts of the various Egyptians and Jews are played by Peter Aysters, Rodney Briggs, Donald Nicholson, Maurice Sellars, Frank Dobson, Roy Harris, Derek Langley, Keith Elliott, Geoffrey Corney and Keith Laverack." Here is a scan of a photograph of that wagon play: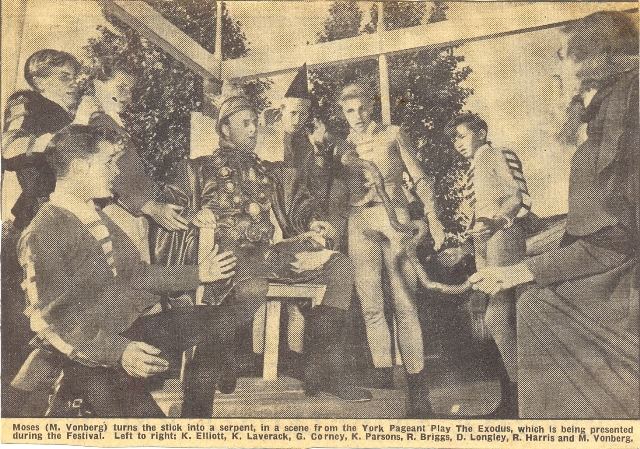 Below is a scan of a page from the 1957 Press Supplement about the York Festival. The music critic was previewing the productions to come. He commented on the production of the 1610 Monteverdi Vespers, conducted by Walter Goehr. This was a new edition by Goehr, its first public performance, on 13 July 1957. BBC Radio broadcast the music, which went on to become the most popular version of the Vespers. It was performed again at the York Festival in 1960, 1963 and 1966.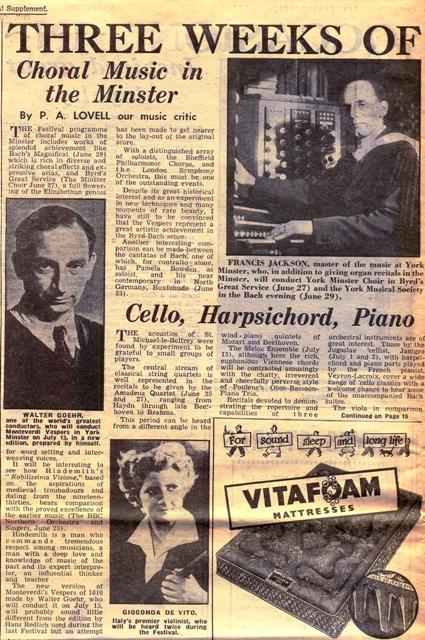 < Go back