Search the NCEM archive
Item details
Music : Scores of Mystery Play music
Item type:
Music
Archive reference:
YMP/I/1
Date/year:
1909 to 2023
Description:
The NCEM has a modest collection of scores and recordings of Mystery Play music. Music is the category YMP/I, then Scores are YMP/I/1. Recordings are YMP/I/2.

The oldest score is "The Book of Music of York Pageant 1909", donated in October 2022 by YAYAS from a bequest. 106 pages of musuc published by Banks of Stonegate, York. The music is chiefly by Tertius Nobel, of York MInster. The Children's Dance in the score is from the 1483 scene in the 1909 pageant, when Richard III came to York and a wagon play was performed for him. The archive holds 2 copies of the script of that pageant.
A manuscript copy of the score by the composer of the 2000 production of the Plays in York Minster - Dr Richard Shephard MBE - was donated to the Archive from his estate, in 2023, along with other material from that production, such as more copies of the CD.

The most modern recording is the 2012 backing sounds for the Theatre Royal's production in Museum Gardens.
The NCEM holds a copy of the 2016 score, of the performance produced in the Minster; it is YMP/I/1/7. It lists the instruments involved as: clarinets, horns, trumpets, cello, percussion (bass drum, snare drum, tam-tam, glock, triangle, timpani, windchimes, rainstick, anvil, tambourine, wood block, thunder sheet, wind machine, xylophone, vibraphone, tubular bells, cymbals, whip, rattle) celesta and organ. There were also a choir, a children's choir and the Minster choristers. It was donated in 2017 by the composer, Dr Richard Shephard. It was substantially the same score as the Millennium production also in the Minster and also by Dr Shephard. An interview with Dr Shephard is available, transcribed, in this archive.

You can hear music from the 2022 wagon production of The Last Judgement, in a 23 minute film recorded by Paint The Mouse, on Youtube. There is a link to it at the
foot of this webpage
.
Here is a photo of Dr Shephard, taken from the 2016 programme.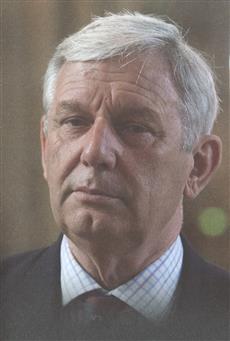 < Go back