Search the NCEM archive
Item details
Press Cuttings : Ticket prices for the modern Mystery Plays
Item type:
Press Cuttings
Archive reference:
YMP/F/15/1
Date/year:
1951 to 2022
Description:
The wagon plays are free - the audience stands in the street around the wagons or sits on the ground. Recent productions by the Guilds have organised a covered stand in some locations, where a seat-ticket can be bought.

The first stand erected by the Council had 2,200 seats. Over the decades, regulations have tightened, with more exits and lights required. This means the number of seats has dropped - for instance in the Minster in 2000 there were only 1000 seats because of health and safety requirements.

From 1951 productions in Museum Gardens charged different amounts for the seats depending on location.
Before decimalisation in 1971 tickets prices are in £ (pounds) s. (shillings) d. (pence) though they did not cost as much as £1 until 1960. (240 pence = £1)

In
1951
ticket prices ranged from 2/6 (two shillings and six pence - an eighth of £1) to 10/6 (ten shillings and six pence, just over half £1).
Ticket prices are quoted in a leaflet in Eileen Skaife's scrapbook of the
1954
production. Stand A: 15s. , 12/6, 10s. , 7/6, 5s. , 3/6. Stand B: 12/6, 10s. , 7/6 , 5s., 3/6. (ie the cheapest ticket at 3/6 is 18 new pence.)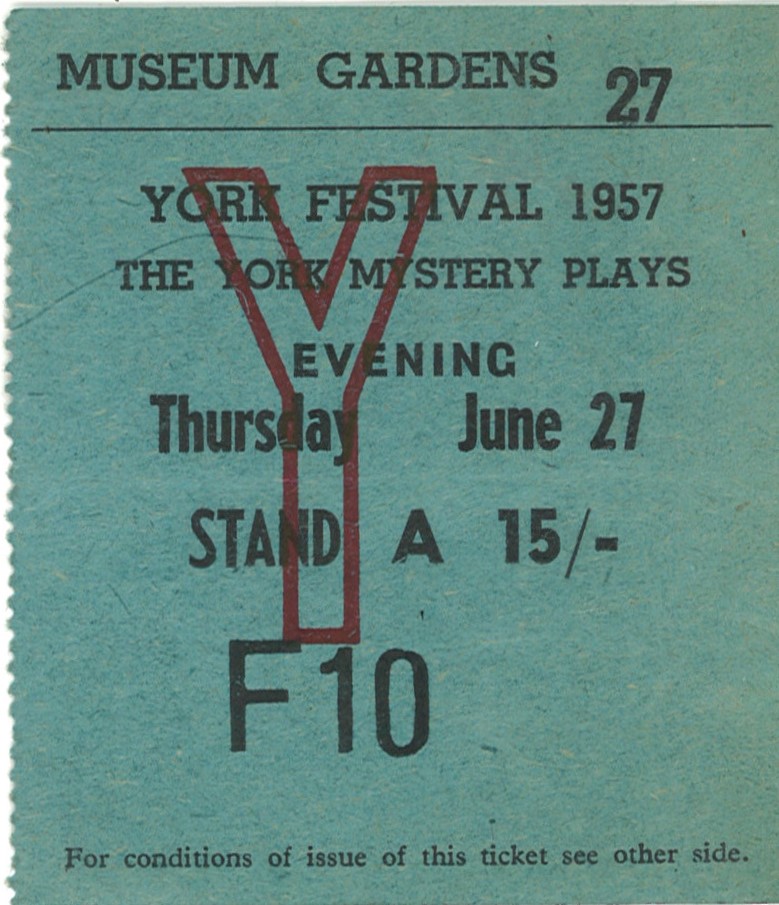 A ticket in stand A in
1957
cost 15 shillings and in stand B 5 shillings. We have comparative prices for a production of the Chester Mystery Plays: Ticket prices were 10 shillings (50 new pence), 7 shillings and 6d, 5 shillings, and 3 shillings and 6d .
In
1960
tickets for the Mystery Plays cost from 20 shillings (£1), 15 shillings, 10 shillings, 7 shillings and 6d.
In
1966
tickets cost 25 shillings, 20 shillings, 15 shillings, 12 shillings and 6d, or 7 shillings and 6d.
In
1969
we have other information in a scrapbook. Mystery Play tickets were 25 shillings, 20 shillings (£1), 15 shillings, 12 shillings 6d, 7 shillings 6d. For the concurrent York Festival, Theatre Royal tickets ranged up to 42 shillings for the
Marriage of Figaro
and Ballet from the Netherlands Dance Theatre (£2.2s). In the Minster tickets for the Berlioz Centenary and for the Hallé Orchestra were from 60 shillings (£3) to 10 shillings (50 new pence), or 50 shillings (£2 10s) to 10 shillings for the London Symphony Orchestra.
After decimalisation:
In
1976
Mystery Play tickets cost from £2.30 to £1.
In
1980
tickets cost £3.50, £3.00 or £2.50.
In
1984
seat F32, Stand B on Friday 22 June cost £5.50 (ticket donated by Prof Margaret Rogerson, the oldest ticket in the archive). That was the same price as a Minster Central Nave ticket in the Festival to see the Academy of St Martin in the Fields.
In
1988
the plays cost £8.50, £7.50 and £6.50. By comparison the Wakefield Mysteries performed at Pontefract Castle cost £4.50 for one part or £7.50 for both parts.
In
1992
(in York Theatre Royal) tickets cost from £13 down to £6, with all matinee seats at £6.
In
1994
a selection of three plays was performed in the garden of the Treasurer's House (owned by the National Trust, near York Minster): tickets cost £5.
In
1996
in York Theatre Royal seats cost from £6 to £15.50
In
2000
(the Minster Millennium production) tickets ranged from £21 to £7.
In
2012
in Museum Gardens the archive holds a ticket for seat L2 costing £36
Tickets for the
2016
York Minster Mystery Plays were £40, £32.50, £25 (evening); matinee tickets from £15 for children, and £25 - £40 for adults. There is a currency converter hosted by the National Archives which converts prices to 2017 amounts. Click
here.

In
2022
, seats in the King's Manor stand cost £20 and £25; in the Shambles Market they were £10.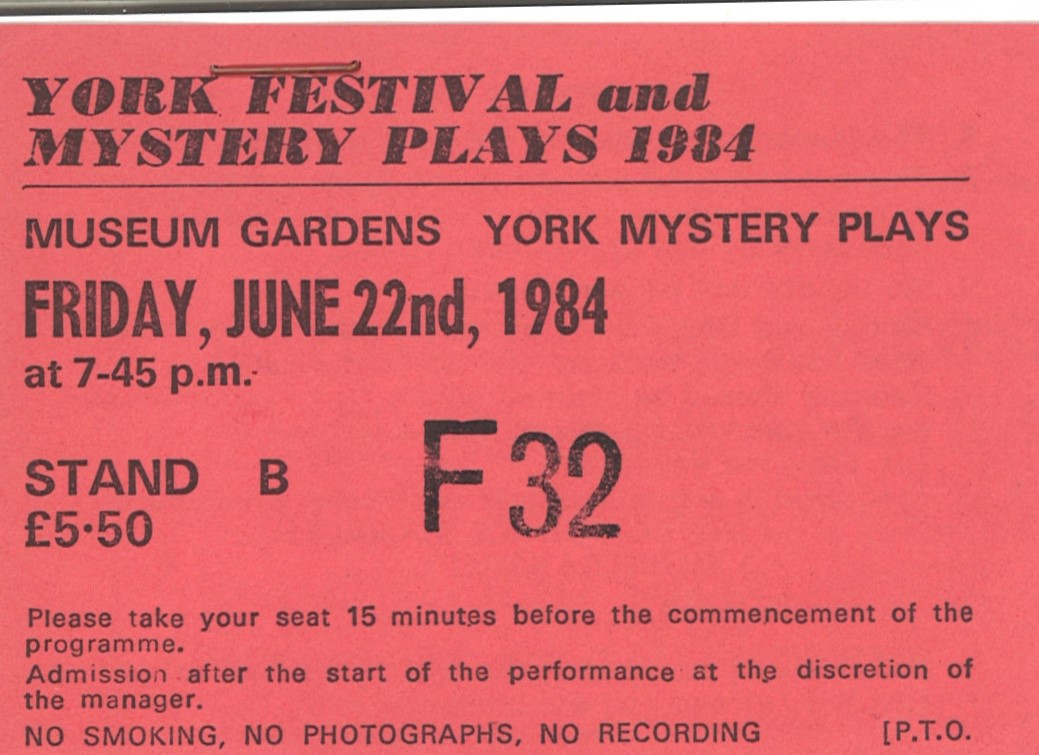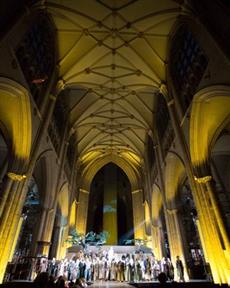 < Go back