Search the NCEM archive
Item details
Photographs : 2018 Wagon Plays
Item type:
Photographs
Archive reference:
YMP/A/21/6/13
Date/year:
2018
Description:
Eleven plays were performed on wagons on 9 and 16 September 2018 at four Playing stations: College Green, St Sampson Square, St Helen's Square; the King's Manor. They were Creation to the Fifth Day; The Annunciation and Visitation; The Fall of Man; The Temptation of Christ; Cain and Abel; The Remorse of Judas; Abraham and Isaak; The Crucifixion and Death of Christ; Moses and Pharoah; The Harrowing of Hell; Judgement Day. The programme contains a Foreword by Margaret Rogerson; a Biography of Artistic Director Tom Straszewski; welcomes by Patrons Nina Ramirez and Margaret Rogerson; Chair's words by Guild leader Roger Lee. There were five plays performed in the Shambles on 12 September 2018 when James Swanton played Satan in all 5 plays - marked with * below. Creative Team: Producer Roger Lee, Artistic Director Tom Straszewski, Event Manager Ben Pugh, Music Co-ordinator Alan Radford. See bottom of page for photos: more welcome! A DVD is available: here is a
link to the taster
. See also
this page
of images and
this page
about the 2018 musicians.
Creation to the Fifth Day
: brought forth by the York Guild of Building. God: Steve Bieby; Chorus: York Theatre Royal Choir directed by Maddy Hudson; Music: York Waits; Wagon Master: Noel Shouksmith; Costume Olga Bielby; Best Boy Tony Ravenhall.
The Annunciation and Visitation
: brought forth by the Guild of Media Arts. The Angel Gabriel: Thomas Jennings; Virgin Mary: Meredith Stewart; her cousin Elizabeth: Cynthia Wood. Technical Support: Derek Brown, Mark Gilkes, Christine Le Blond, Charlotte Lillis, Geoffrey Theaker. Guild Master: Ann Gurnell.
The Fall of Man
: brought forth by the Vale of York Academy on behalf of the Gild of Freemen of the City of York. Satan: Kelly Docker; Adam: Hannah Docker; Eve: Fay Clark; God: Eve Clark; Director: Rebcca Nicholson. Preceded by the Leeds Waits.
The Temptation of Christ
*: brought forth by the Company of Cordwainers. Satan: Lydia Juhrich; Jesus: Hannah Eggleton; Accompanying Angel: Stella Chatterton. Director: Nick Newman; CostumeL Amelia Sierevogel. With the Leeds Waits. Used the same wagon as the Gild of Freemen.
Cain and Abel*:
brought forth by the Lords of Misrule, on behalf of the Company of Merchant Taylors. First Angel: Catherine-Rose Hailstone; Second Angel: Skye McAlpine Walker (9 Sept) or Emily Hansen; Cain: Max O'Keeffe (9 September) or Daniel Wilmot; Abel: Ross McIntire; Brewbarret: James Harland. Director: Emily Hansen; Producer: Jos Bates.
The Remorse of Juda
s: Brought forth by the York St John University Players. Judas: Harry Murdoch; Pilate: Bronte Hobson; Annas: Hanna Worsley; Caiaphas: Holly Sloan; Soldier: Ryan Preston; Daughter: Jess Wilkins; Demon: Becky Sheard; Mad Woman/musician: Annie Chave. Director and Designer: Alexander Kaniewski; Wagon Master: Dale Osborne.
Abraham and Isaak
: brought forth by the Guild of Scriverners of the City of York. Monk/Announcer: John Latimer; Abraham: Tim Hinton; Isaak: Adrian Widdowson; Angel: Neil Vincent; Servants to the family: David Brigham, Jean Jesty. Director: Angie Millard; Set Design: Zoe Mitchell; Waggon Master: Tony Cocker.
The Crucifixion and Death of Christ
*: brought forth by the Company of Butchers. Jesus: Joy Warner; Crassus: Maurice Crichton; Livia: Tony Froud; Longinus: Jennie Wogan; Brutus: Will Darwin; Authority figure: Liz Elsworth; Mother Mary: Marion Goodrick; Mary Cleophas: Sandra Rowan; Apostle John: Mic Errington; Thief on the left: Keith Rowan; Thief on the Right: Ruben Wollney. Director: Katie Smith; Asst Director: Andrew Isherwood.
Moses and Pharoah
: brought forth by St Luke's Church, York. Older Moses/Narrator: Mark Comer; Pharoah: John Tuffen; 1st Counsellor to Pharoah: Tom Pollock; 2nd Counsellor: Elaine Hill; 3rd Counsellor: Sally Maybridge; 4th Counsellor: Melissa Bryan; Young Miriam: Emilia Bryan; Jochebed: Gillian Tyler; Pharoah's daughter/1st Egyptian: Willow Pollock; 1st Israelite: Janey Thorne; 2nd Israelite: Sam Thorne; 3rd Israelite: Gillian Tyler; Younger Moses: James Tyler; God of the Burning Bush: Martin Sheppard; 2nd Egyptian: Carnie Pollock; 3rd Egyptian: Matthew Warry; 4th Egyptian: Isobel Legg; 5th Egyptian: Jack Hoyland; 6th Egyptian: George Bunyan; 7th Egyptian: Lesley Wilkinson; 8th Egyptian: Jonathan Punnose; 9th Egyptian: David Rushton; Pharoah's son: Isaac Bryan; 10th Egyptian: Mike Tyler. Directors: Mark Comer and Mike Tyler; Musical Director: Helen Warry; Wagon Master: Lynn Comer; Set design and construction: Mark Comer and Lynn Comer.
The Harrowing of Hell
*: Brought forth by the York Mystery Plays Supporters Trust. Singing Monk: John Holt Roberts. Jesus: David Phillips; Satan: Roger Wood; Souls in Limbo: Adam: Noel Stabler; Eve: Felicity Semple; Deborah: Catherine Edge; Simeon: Janice Newton; John the Baptist: Jason Yee; Moses: Nick Jones; Prophetess: Terry Ram; Devils: Ribald: Donna Kitching; Beelzebub: Rosy Rowley; Belial: Ged Murray; Astoreth: Annabelle Jenkinson; Archangel Michael: Em Thane. Other Souls: David Denbigh, Beverley Foster, Jess Murray, Emma Pomfrett, Jane Rounce, Julie Speedie, Denise Squire, Max Thomas-Richards, Bernadette Turner, Nicola Waite. Other Devils: Wilma Edwards, Colin Lea, Lucinda Rennison, Jai Rowley, Samuel Valentine. Director: Ben Prusiner, Asst Director: Simon Tompsett, Wagon Master: Dave al Bahrani-Peacock, Costumes: Aurelia Puigdomenech; Movement: Christie Barnes.
Judgement Day*
: brought forth by Ravens Morris on behalf of the Company of Merchant Adventurers. God: Adam Hall; Jesus: Julian Finnigan; Angels: Dan Thompson, Elizabeth Thompson, Kobie Fofie; Fallen Angels: Ursula Clark, Corinne Clark; Seraphim: Harriet Thompson, Samuel Thompson; the Watchers: Claude Mole, David Foster; Mother Figure: Heather Young; Whore-Queen of Babylon: Megan Heywood; Apocolypse Pampleteer: Barry Havercroft. With the Four Horsemen of the Apocolypse, the Famine Reavers, the Plaque infected, the Beautiful Dead, Puppet operators, and Dead Souls and Journeying Souls. Director: Alan Heaven; Music: the Bertie Set; Waggonmaster: Alex Wells, Asst Director Tina Lind.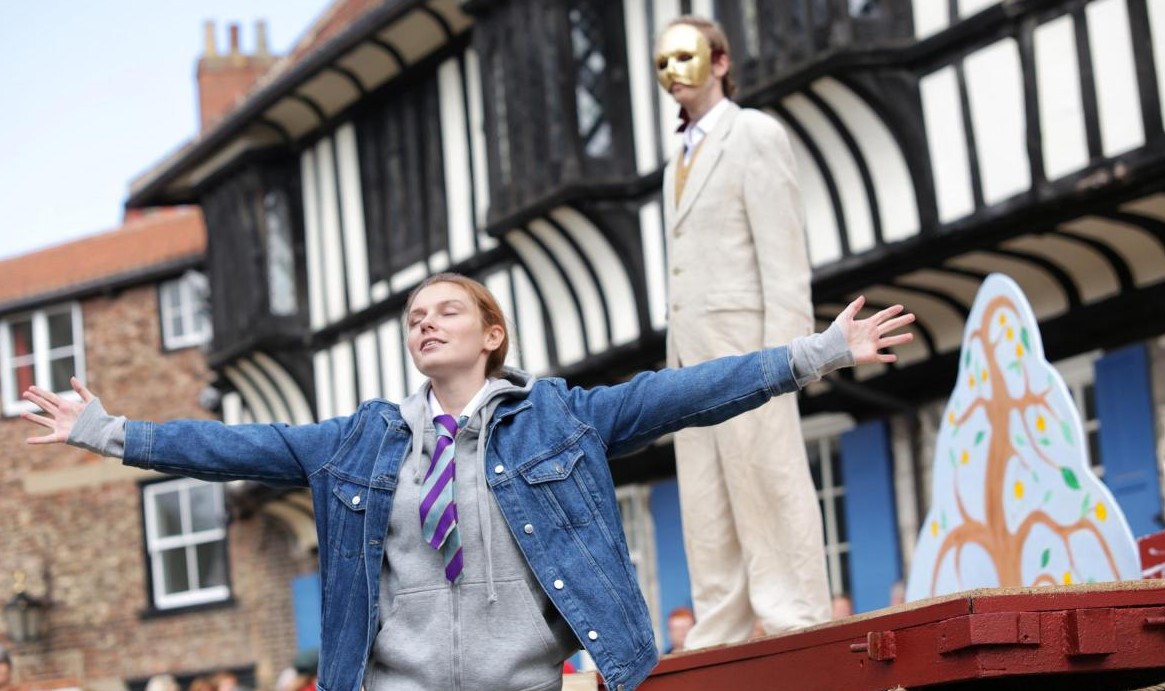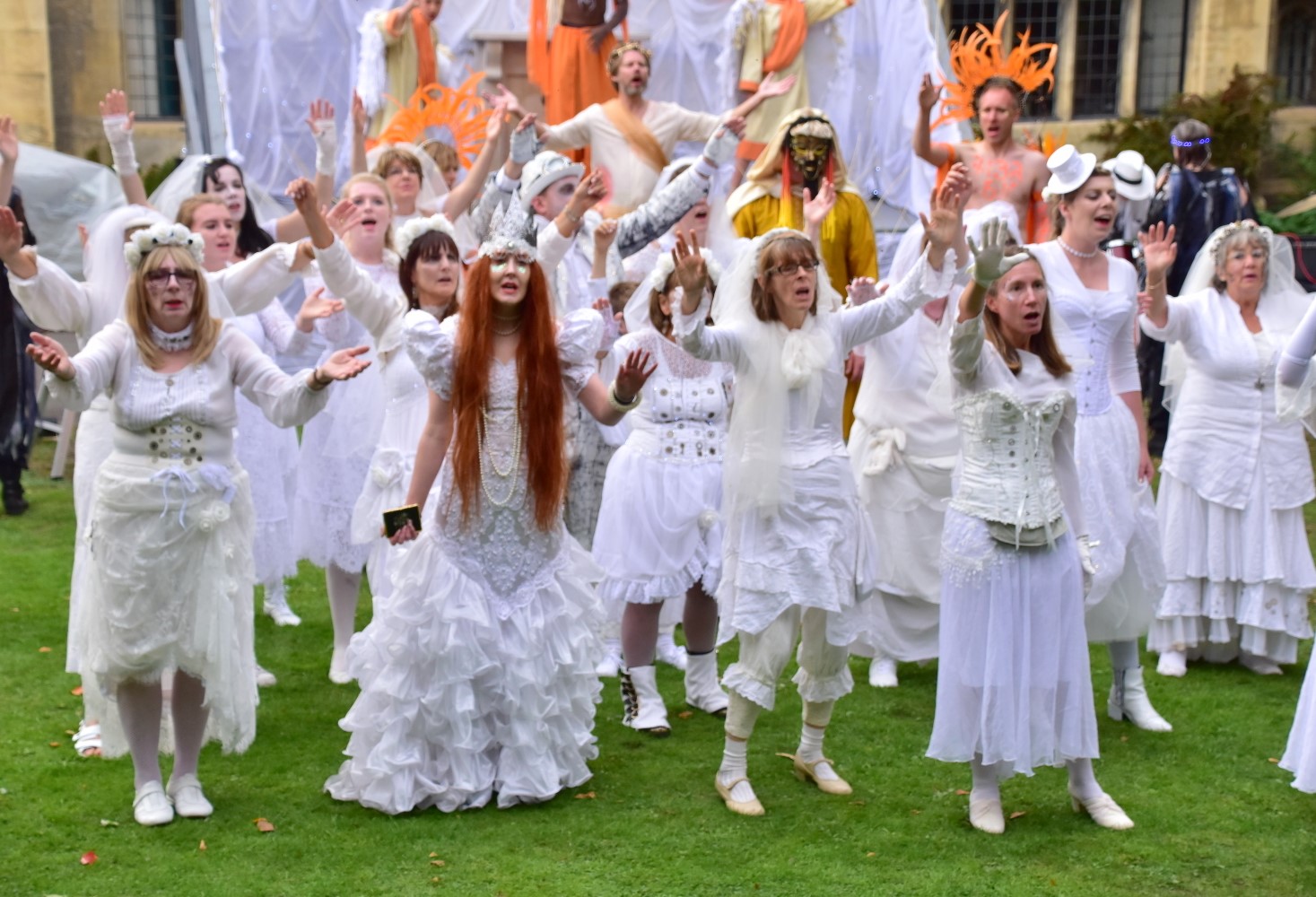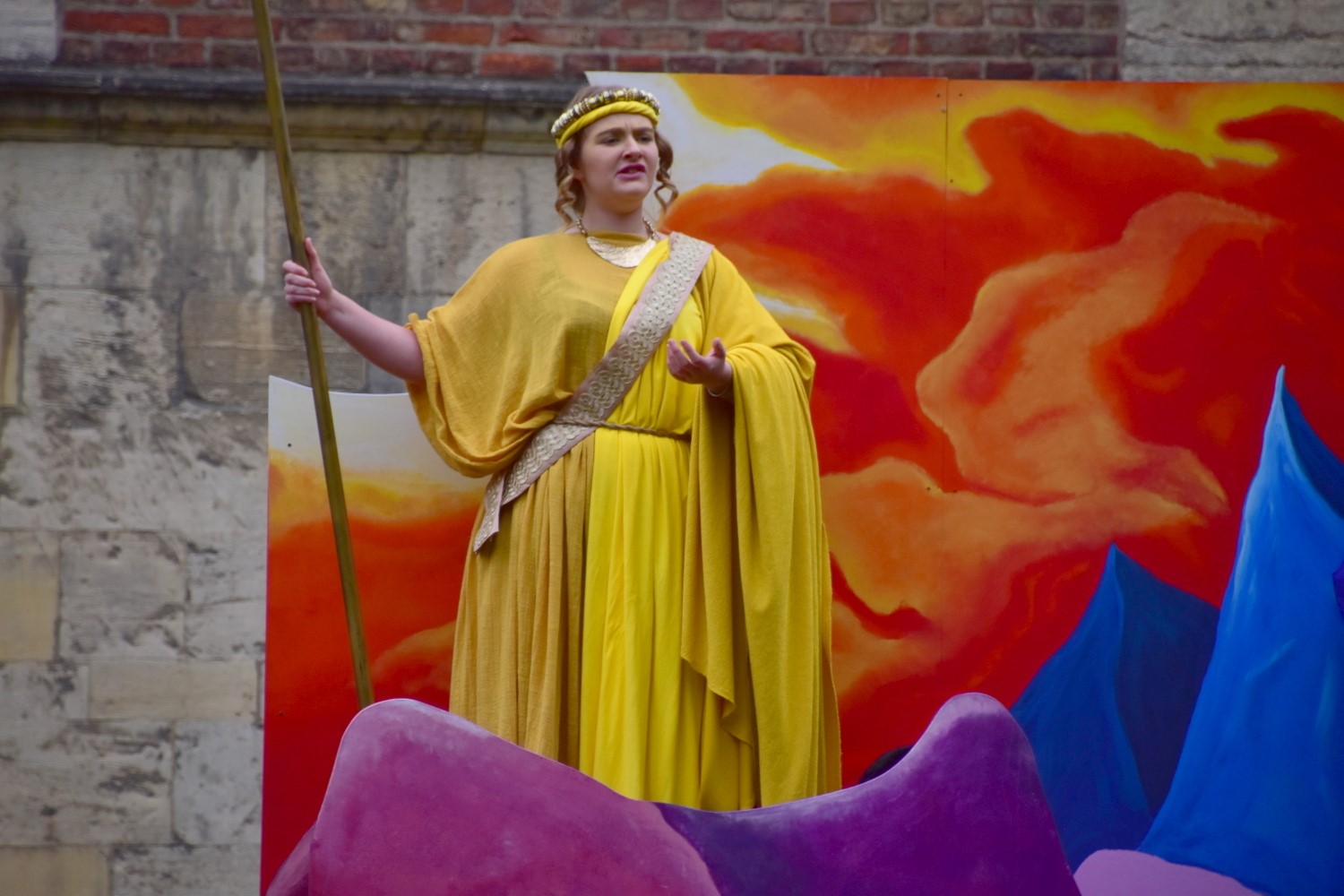 < Go back