Search the NCEM archive
Item details
Mounted Display Pieces : Special or mounted display pieces
Item type:
Mounted Display Pieces
Archive reference:
YMP/N
Date/year:
from 1957
Description:
The category YMP/N began as a collection of mounted display photographs from Patrick Olsen, from 1967 and 1969 (YMP/N/1 and YMP/N/2) but has expanded into a miscellaneous category. Nine massive laminated exhibition panels from 2002 about the Plays and how the Archive came to be established, which were created by Delma Tomlin for the National Centre for Early Music, are recorded as YMP/N/3. Two flags and a banner from a 1987 Mystery Plays producation, donated by Simon Tompsett, are recorded as YMP/N/4. A wonderful long golden cloak worn by Herod in the 2016 Plays in York Minster, donated by producer Nicky Corp, is recorded as YMP/N/5. In 2017 the archive was thrilled to receive from Mrs Mary Owen (née Malden) two tablecloths, which she embroidered with the signatures of cast and crew, while acting in the Plays in 1957 and 1960. In 2022 the Archive loaned items to the Green Howards Museum, Richmond, which had a special exhibition about Capt. Rev. J S Purvis, creator of the 20th century script. He had been a Green Howard soldier in World War I. A donkey head (2016 plays) and a model of the set from 1969, made by Patrick Olsen, were in that exhibition.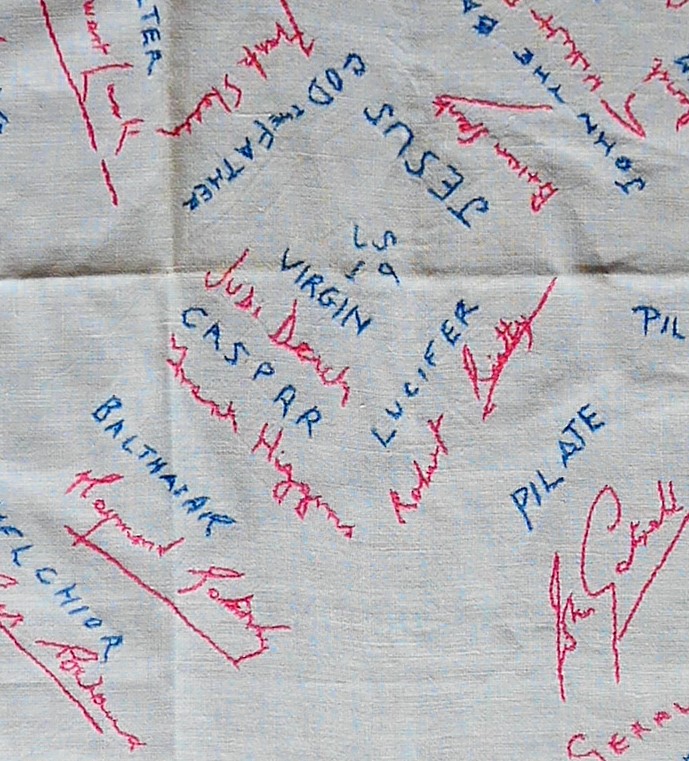 In May 2022 a watercolour was donated, showing a Mystery Play scene. It is signed "J S Purvis 1951".
< Go back