Search the NCEM archive
Item details
Programmes/Posters : Programmes 1954 Production
Item type:
Programmes/Posters
Archive reference:
YMP/B/2/2
Date/year:
1954
Description:
1954 programmes of York Cycle of Mystery Plays from scrapbook. Two have been donated by Eileen Skaife. Copy 1. Pasted in to her scrapbook. Copy 2. Loose inside the scrapbook. Copy 3 belonged to Shirley Marsh.
Producer: Martin E. Browne.
Associate Producer: Henzie Raeburn (m. to Martin Browne)
Director of Movement: Geraldine Stephenson
Designer: Norah Lambourne
Musical Director: Denis Stevens
God the Fathe
r: John Jacob
Archangel Michael
:John Westbrook
Archangel Gabriel:
Michael Vonberg
Lucifer (Satan):
John van Eyssen
Belzabub
: John Pickles Belial: Ralph Broome
1st Devil: Colin Paris 2nd Devil: Robert Fyfe
Adam:
Kenneth Parsons
Eve:
Jane Southern
Joseph
: Leonard Pickering
Shepherds
:Oswald Heppell, Maurice Long, Richard Vivian
Kings:
John Falconer, Ronald Drake, Martyn Colborn
John the Baptist
:Desmond Taylor
Woman taken in Adultery
:Jean Neilson
Jews:
Hubert Kemp, Albert Riley
Doctors:
Alfred Bristow, Theo Bruce
Servant at Bethany
: Alethea Charlton
Mary of Bethany:
Eliner Rutherford
Keeper of the Gates
(porter): Arthur R. Pickering
Wife to Zaccheus
: Lilian Pickering
Blind Man
: Peter Pumphrey
Lame Man:
Claude Oglethorpe
Citizens
:George Taylor, Eileen Skaife
The Lord Mayor:
John Westbrook
Burghers:
R. G. Preece, G. N. Shann, M. E. Wilkinson, L. R. Wright
Pilate's Son
:Peter Burdon
Roman Soldiers:
Oswald Heppell, M. A. Bruce, Claude Oglethorpe, Peter Pumphrey, A. R. Pickering, Frank Waudby, Gregers Stewart, Garth Berresford
Mary Magdalene:
Henzie Raeburn
Boy at the Cross:
Anthony Reed
Mary Cleopas
: Esme Church or Mavis Deighton (Esme Church was also running the Northern Children#t Theatre)
Simon of Cyrene
: Andrew Staines
Joseph of Arimathea
:John Falconer
Nicodemus
: Norman Tyrrell
Simeon:
C. W. Rawling David:Brian Barnes
Angel at the Resurrection
: Judith Dench
J
ewish Soldiers
: Graham Rigby, Anthony Yates, Edward Petherbridge, Richard Cooper
Angels:
Marjorie Daly, Eileen Dobson, Isobel Lane, Philippa Leppington, Mary Mitchell, Barbara Redhead, Christine Rhodes, Tessa Robson, Kathryn Rowntree, Janet Taylor, Juliet Turtle
Devils:
Rodney Briggs, Richard Crowe, Paul Gregory, Christopher Lawson
Apostles
: Roland Bentley, Oliver Carter, A. Freer West, Philip Gill, E. G. Robinson, W. T. Shorer, Leslie Walker
Citizens and countryfolk
: Dorothy Anderson, Barbara Appleton, Norma Bailey, Patricia Bainbridge, Ethel Barker, Sheila Barker, Helen Beaumont, Barbara Benson, Audrey Bentley, Gladys Benton, Maureen Blackburn, Monica Booth, Shirley Bowland, Anthea Boyle, Ruth Briars, Hilda Bristow, Ann Burniston, Zellia Caffrey, Ann Clark, Doris Clarke, Alma Coates-Walker, Juliet Cooke, Jennifer Crowe, Bertha Cundall, Ann Deighton, Olave Dench, Patricia Dosser, Lorna Dransfield, Irene Fletcher, Angela Gerber, Kathleen Giblin, Monica Gill, Mollie Green, Louise Harris, Christine Howarth, Ethel Howe, Sheila Humphreys, B. Jacklin, Avril Johnson, Maureen Johnson, Barbara Jolly, Judith Kemp, Mavis King, Evelyn Knaggs, Felicity Lumley, Diana Maturi, Margaret Mein, Eleanor Milner, Dora Morris, Pamela Newcombe, Hilary Newton, Ann Nockels, Judy Obank, Frances Outhwaite, Hilary Parker, Joan Perkins, Barbara Pittard, Carol Rycroft, Pamela Schofield, Clare Shaw, Erla Shorer, D. Smith, Doreen Smith, Joyce Smith, Elisabeth Southren, Bernice Stewart, Audrey Styan, Gay Turtle, Mary Vaughan, Margaret Ward, Margaret Watt, Molly Welch, Bridget Whelan
J. V. Addis-Smith, R. Allinson, D. B. Andrews, E. Barker, G. Barraclough, P. Batchelor, A. Bentley, P. Blanshard, B. Calpin, W. Chapman, J. F. Clark, J. Cross, H. Edwards, D. Finnegan, O. J. Follows. G. Franks, R. Hardcastle, J. Hargreaves, F. Howe, M. Hutton, T. Jefferson, J. Lutman, C. Mortimer, R. Mouncey, B. Newey, N. F. Nicholson, S. Robinson, T. Sutcliffe, E. Turner, J. Woodcock
Students of the Northern Theatre School taking part:Norma Bailey, Anthea Boyle, Juliet Cooke, Lorna Dranfield, Angela Gerber, Louise Harris, Christine Howarth, Avril Johnson, Judith Kemp, Felicity Lumley, Diana Maturi, Judy Obank, Edward Petherbridge, Clare Shaw, Mary Vaughan,
Music for the Mystery Plays:Recorded by Scola Polyphonica Conducted by:Henry Washington
Also performed by:The Philip Jones Brass Ensemble, directed by Denis Stevens
Stage Director:
William Pickering
Stage Manager:
Edward Scurr
Asst Stage Managers
:Brian Barnes, George Duncombe, Wilfred Newby, E. V. Payne
Wardrobe Mistress:
Olave Dench
Assistant Wardrobe Mistress
: Winifred Mary Robinson
Assistant to the Producer:
Shirley Waide
Property Mistress:
Kathleen De Little
Scene Painter
: Keith P. Lyon
Front of House Manager:
R. L. Roger
Deputy Front of House Manager
:W. Smith
Cast Marshall:
Kenneth Mathews
Costume Group:
Mesdames Benfield, Bengsson, Blenkin, Burrow, Clarke, Dawson, Hopper, Killip, Lawn, Maynard, McClenaghan, Moore, Nichols, Pim, Robson, Rymer, Scruton, Shannon, Shaw, Shorer, Steele, Tatton, Walker, and Wyman.
Properties Group
: Miss Andrewarthur, Miss Appleton, Miss Baram, Miss Dawson; Mr Blanshard, Mr De Little, Miss Dench, Dr Dench, Mrs Green, Miss Hartley, Miss Hibbs, Mr Lack, Miss Mather, Mr Matthews, Mr Milner, Mrs Newitt, Miss Outhwaite, Mr L Pickering, Mrs Pickering, Mrs Preece, Miss Purvis, Miss J. Robinson, Miss C. Robinson, Mrs Scurr, Mrs. Shorer, Mr Shorer, Miss Skaife.
Scenery
built by Arthur Heppell and H. B. Raylor and Company Ltd
Special Effect
s and lighting by Strand Electric and Engineering Co Ltd
Stands built by H. B. Raylor and Company Ltd
Sound Equipment by Recorded Sound Ltd
Here is a photograph of Director of Movement Geraldine Stephenson taking a rehearsal, with onlookers.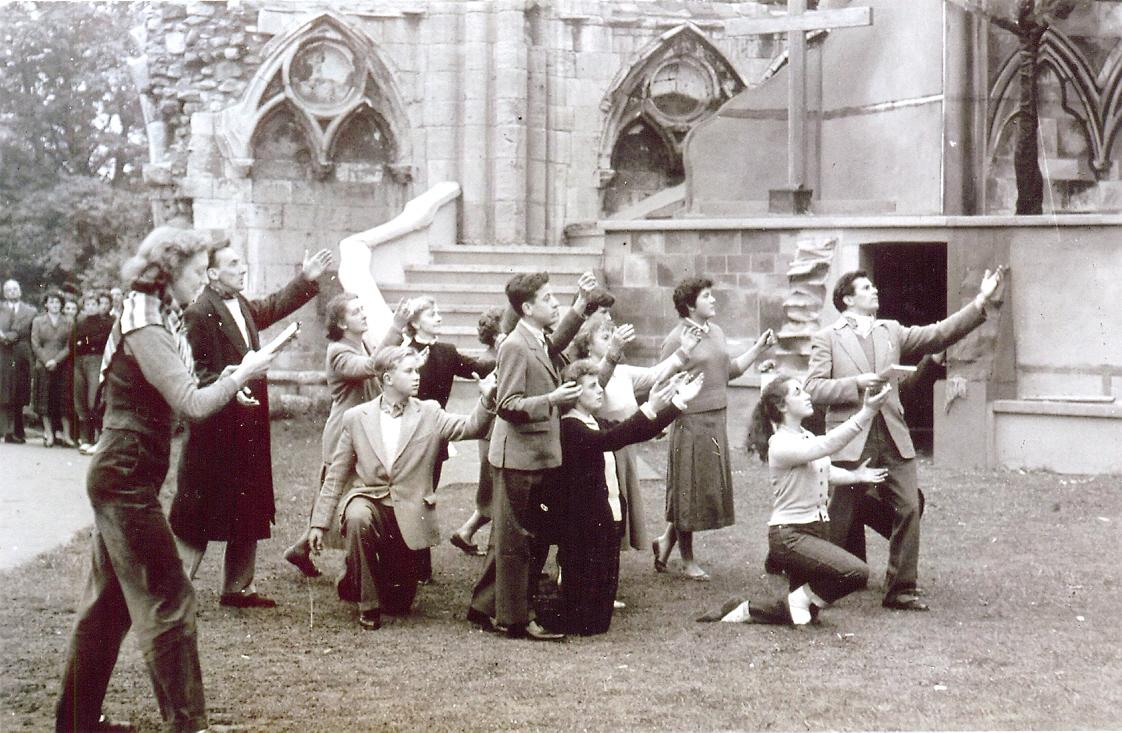 < Go back