Search the NCEM archive
Item details
Programmes/Posters : 1951 York Festival - Committee minutes from 1948
Item type:
Programmes/Posters
Archive reference:
YMP/B/1/1
Date/year:
1948 onwards
Description:
Now stored under YMP/J/19
Extracts from the Minutes of the 1951 Festival Committee and the York Festival Society Ltd Board, and meetings of York Council, relevant to the Mystery Plays.
1951 Festival Committee 16 December 1948: Skeleton plan to be prepared under headings of Architecture, Music, Drama, Pageantry, Craftmanship and the River.
1951 Festival Committee 18 February 1949: Outline plan approved but no specific mention of the Mystery Plays. Keith Thomson to be Artistic Director of the Festival. Hans Hess, Director of York Art Gallery, was Asst. Director.
1951 Festival Committee 21 April 1949: Independent body to be set up to be known as the York Festival Society Ltd (YFS) because of an HM Treasury ruling which meant Arts Council could not make grants to Local Authorities.
1951 Festival Committee held further meetings in 1949 but no specific mention of the Mystery Plays. York Festival Society set up 29 September 1949.
YFS Board Meeting 7 Dec 1949: para about the programme being just the bare bones. "There is all the dressing up of the city, the fun and games, the procession and pageantry, and the spontaneous enthusiasm of the inhabitants yet to be added.... Through the imagination…one is able to see each event taking place and realise the real effect... and impression that will be made by the re-enactment at night of, for instance, the Crucifixion in Museum Gardens".
There would be 15 performances and processions through the city of all performers (approx 300) in the Miracle Plays before and after each performance to create pageantry and real impression and atmosphere of Festival.
YFS Board Meeting 4 and 18 Jan 1950: Martin Browne to be engaged to undertake the production of the Mystery Plays for fee of £250 and Nora Lambourne to design sets and costumes for fee of £150.
YFS Board Meeting 8 Feb 1950: Amateur dramatic groups in and around city contacted and arrangements as to casting, costume etc are going ahead.
YFS Board Meeting 26 July 1950: Offer accepted from SPCK to publish text of York Mystery Plays in book form. Royalties 10% on publishing rights in UK and 5% abroad. Royalties shared equally with Canon Purvis who adapted the script.
YFS Board Meeting 4 Oct 1950: Director to explore possibility of obtaining an insurance cover for the Mystery Plays in case of inclement weather.
YFS Board Meeting 8 and 10 Nov 1950: Casting hoped to be completed in near future. Costume designs are complete. 15 costume making groups have been set up. Board agreed to authorise British Drama League to purchase certain materials for the costumes.
Tenders invited for construction of open air stands in Museum Gardens.
Mystery play tickets - pricing approved 10s/6d to 2s/6d. (55p do 12.5p decimal conversion 1971)
Complimentary tickets - 50 to be reserved for the Press and special visitors.
Members of the Corporation and their ladies/guests be invited free to a performance on the second Monday of the Festival and co opted members of the Board and senior officials with ladies/guests can attend on same occasion as members of the Corporation.
Board members to attend in turn each Festival event and be supplied with stewards' badges
Decided to accept risk of bad weather and be prepared to refund ticket money if performance cancelled within certain time of commencement. Possibility of holding matinees if evening performance cancelled.
Fees of £250 and £150 to Martin Browne and Nora Lambourne should cover the period of the production and include any expenses incurred during that time. For preliminary visits, agreed a certain amount should be allowed for expenses in both cases.
YFS Board Meeting 3 Jan 1951: Rehearsals for Mystery Plays to commence on 1 April.
YFS Board Meeting 4 April 1951: Sample copy of presentation copy of script of MPlays for presentation to Royalty and distinguished visitors prepared by J E Trendall. Decided to buy 12 copies for presentation and also decided that copies should be available to the public on order at price of two guineas (£2 2s 0d) each.
YFS Board Meeting 9 May 1951: Studio broadcast of Mystery Plays will be held on Sunday 3 June.
YFS Board Meeting 11 June 1951: Board recommend a proposal to York Council that a Festival be held again next year (1952) in which Mystery Plays form the central feature....
At a meeting of York Council on 2 July 1951 it was moved by Cllr Scuton and seconded by Cllr Keech "that the Council decide against any form of repetition of the Festival in 1952, and will consider later the advisability of repeating the Mystery Plays and other suitable features after an interval of alternatively three or five years". This amendment was carried.
YFS Board Meeting 16 July 1951: Board recommends Festival to be held in 1952 for two weeks from 29 June to 13 July provided the Council give financial guarantee of £4,000 to which the Arts Council will be invited to make a contribution.
York Festival Society Board Meeting 5 Dec 1951: Agreed that authorised script of York Cycle of Mystery Plays should not be released for performance by other bodies at least until after the Plays have been produced again in York and that the matter be reconsidered then.
Summary of Expenses:
York Mystery Plays
General expenditure: £6,233 Receipts £9,330
Plays' proportion of Festival administration: £3,741
Total cost £9,974 income £9,330
Extracts prepared and donated by Lynda Timms, 2012
The archive also contains a report from York Georgian Society, and
Sketch
magazine photos, of the Georgian Ball in the Assembly Rooms on 15 June 1951.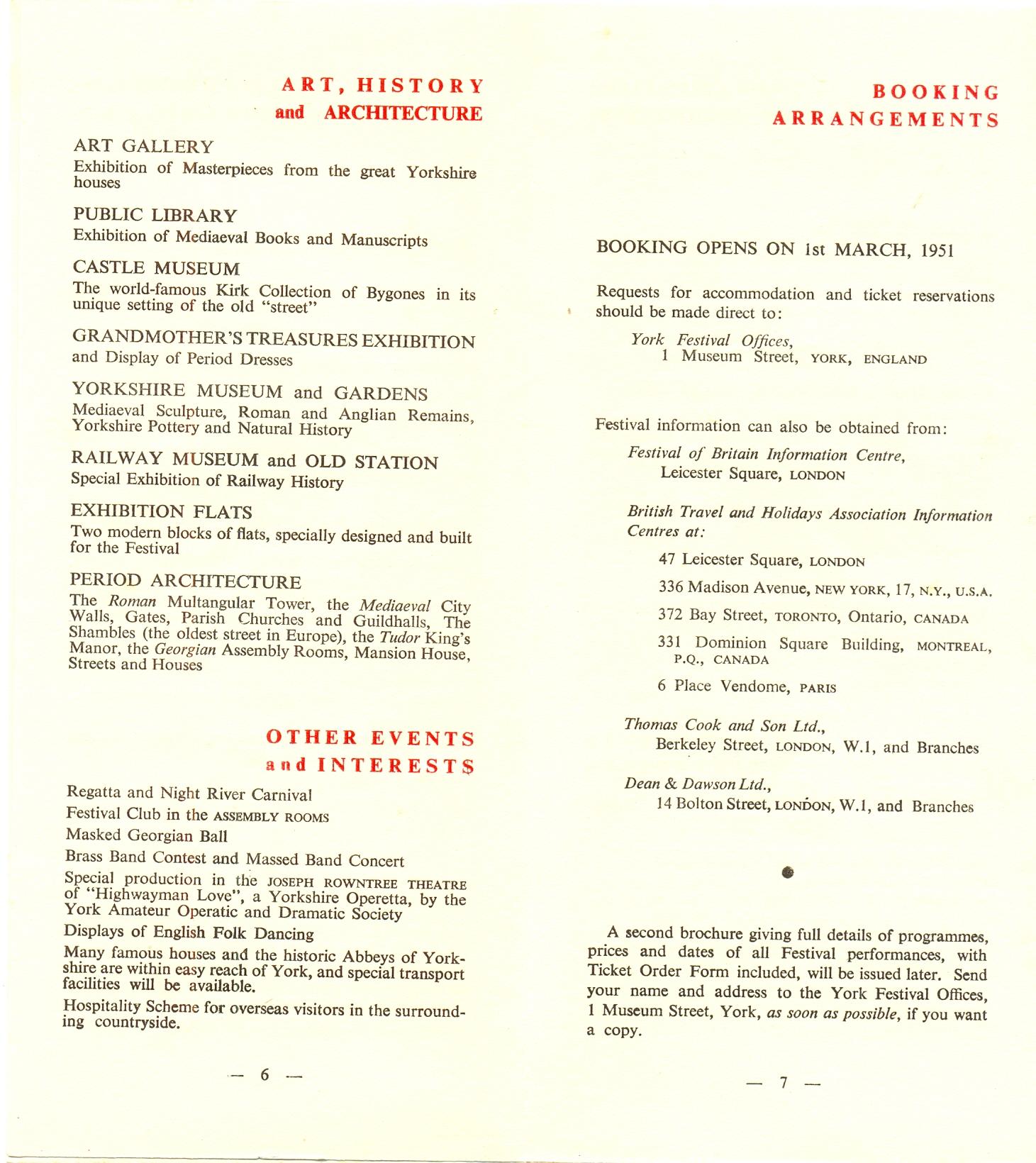 < Go back