Search the NCEM archive
Item details
Press Cuttings : Patrick Olsen 1969 Press Cuttings
Item type:
Press Cuttings
Archive reference:
YMP/F/7/2
Date/year:
1969 and 1971
Description:
An album of Patrick Olsen's press cuttings, beginning with the 1969 Mystery Plays production; he designed the set.
p.16 Photograph,
Yorkshire Evening Press,
14/07/69, p.6 caption: 'Edward Taylor, producer of the Mystery Plays, pours the drinks for a toast to the success of the Festival before the start of the final performance of the Plays last night. With him are, left to right, Mavis Bell, Steve Freeborn, Pat Olsen, the set designer, and Mavis Deighton.
p.27 'Mystery cast move into the open.' article with photograph by Ian Wright
p.29 'Knife shapes Plays' setting'.
Yorkshire Evening Pres
s article (27/05/69, p.5) and photograph, caption: Pat Olsen uses a bread knife to carve expanded polystyrene to simulate stonework on the Mystery Play set now being built in the Museum Gardens, York.
Further in the album are souvenirs of a production of Carmen, where Patrick Olsen designed the set. It ends with the York Pageant in 1971, which he also designed. This history pageant was performed in front of the Queen, who visited York then.

p.48 photograph: 'The Queen and the Duke of Edinburgh with the Lord Mayor of York, Ald. Richard Scruton, walking past some of the pageant scenery'

This image shows a corner of the 1969 set model created by Pat Olsen, on display in the Green Howards Museum as part of an exhibition about Canon Purvis.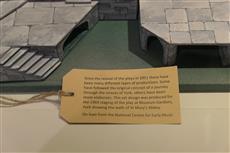 < Go back