Introduction:
York Mystery Plays: 1951 to the present day
This is the story of the York Mystery Plays from revival in the Festival of Britain in 1951 to the present day, told by the many individuals who have been involved with the Plays - whether as actors, stage hands or front of house - through their personal memories, photographs and press cuttings. We at the National Centre for Early Music in York were inspired to 'get on' with talking to the people (virtually all volunteers) who had been involved with the Plays to record their personal memories before it was too late.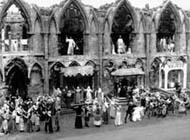 This website is designed to offer a snapshot of the myriad productions of the Plays which have taken place in the city over the past 69 years, whether in the ruins of St Mary's Abbey, on the stage of the York Theatre Royal, in the spectacular nave of York Minster or on the traditional wagons drawn through the streets of the city of York - and to demonstrate the range of musical styles used to enhance the Plays through
out that time.
This project was drawn together by the
National Centre for Early Music
in Walmgate, York with support from the
Heritage Lottery Fund
, the York Millennium Mystery Plays Board, the York Civic Trust, the Feoffees of St Michael's, Spurriergate, Mayfield Valley Arts Trust, the City of York Council and the Arts Council.
We hope that you enjoy what follows. If you have archival material to add to our collection, or have information relevant to this site, please
contact us
at the National Centre for Early Music.
Recent productions:
2012
- In Museum Gardens, produced by York Theatre Royal
2014
- On wagons around York, produced by York Guilds
2016 - In York Minster, produced by the Dean and Chapter
2018 - On wagons around York, produced by York Guilds

2022 - On wagons around York, produced by York Guilds