Search the NCEM archive
Item details
Sets : Sets
Item type:
Sets
Archive reference:
YMP/G
Date/year:
1966, 1969, 1980, 1984
Description:
The category sets is mostly represented by photographs of sets being erected. There are alo designs of costumes and sets for the 2000 Minster production, and a model of the Minster for the 2016 production.

The NCEM has cardboard models of Mystery Play sets from a few productions: 1969 (donated by Patrick Olsen) stored as
YMP/G/1
and 1984 (loaned by Ken Evans) stored as
YMP/G/2
and YMP/G/3. They are kept on a shelf in the National Centre for Early Music, York.
Here is a photo with some detail of the 1980 stage being erected.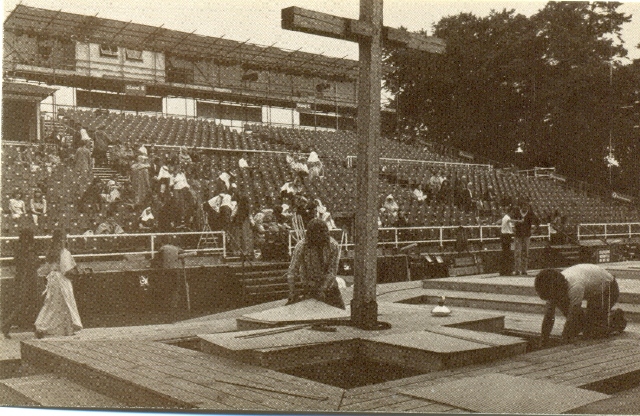 The Wagons are another form of set - The Merchant Adventurers set of the Last Judgement wagon is recorded through its catalogue listing from medieval times.
Recently the NCEM has been grateful to receive designs and photographs from another wagon designer and builder, Michael Rogers, who is associated with York Settlement Community Players and was a teacher. He designed these wagons: The Flood, 1966; Exodus, 1969; Last Judgement, 1998; Last Judgement, 2002; Last Judgement, 2006; Dream of Percula, 2010; Noah's Ark, 2012; Christ before Caiaphas, 2014.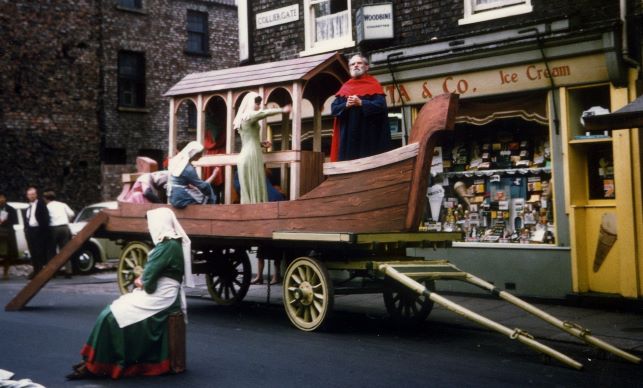 < Go back