Search the NCEM archive
Item details
Photographs : Yorkshire Evening Press, 1984 production
Item type:
Photographs
Archive reference:
YMP/A/11/1
Date/year:
1984
Description:
Yorkshire Evening Press
photographs of the Mystery Plays in Museum Gardens.
1. Rehearsal with cast on stage. Caption: 'Take your places, please: Members of the cast of the York Mystery Plays on the set in the Museum Gardens during a rehearsal last night.' Article appended to paper photocopy, entitled 'Massed voices, for Mystery Plays.'
2. 11/06/1984 Christ (Simon Ward) and others in St Olave's churchyard. Caption: 'Players wait in St Olave's churchyard for their entrance to the set. Mystery Plays story by Gammage.' 2 copies. Unfortunately the quality of reproduction is poor, Simon Ward is turning away. He appears to be smoking a cigarette
3. 08/03/1984 Betty Doig and five other cast members posing in front of St Mary's Abbey. Caption: 'From left: Penny Scott (angel), Michele Whitehead, (Mary Magdalene), Rev. Hew Curriston [sic: in the programme the Rev. is named as Hugh Curristan] ( Dr Councillor), Michael Brown, (Pontius Pilate), Betty Doig, (Anna), and John Ramsden(Peter)'. This photo is below.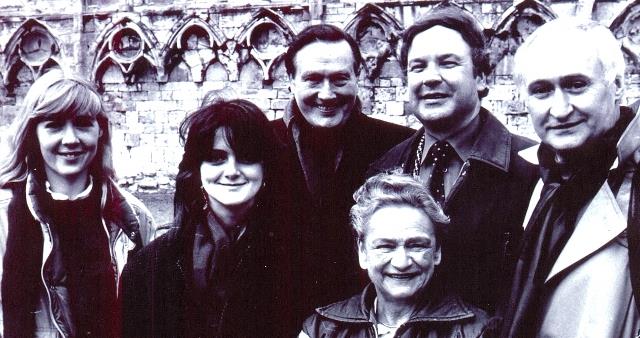 < Go back