Search the NCEM archive
Item details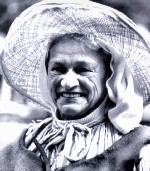 Betty Doig (Wardrobe and several small parts over the years).
Click to see larger
Photographs : Photographs of uncertain date
Item type:
Photographs
Archive reference:
YMP/A/20
Date/year:
Description:
2.
Yorkshire Evening Press,
black and white photograph. No copy or caption. Shows Betty Doig, wardrobe. ?1984
3. Colour photograph form David Antill showing Christ kneeling with the cross.
< Go back