Search the NCEM archive
Item details
Sets : Waits accompanying the York Plays
Item type:
Sets
Archive reference:
YMP/G/1
Date/year:
2014
Description:
The York Waits have always accompanied the
Corpus Christi
Plays of York. Other groups also appear and walk around the city with the wagons to the playing stations. In 2018 the Pipe and Tabor Society held their annual meeting in York to coincide with the
wagon play performances
on 9, 12 and 16 September. Here is a link to a '
taster' of the DVD
of 2018 plays, with Waits. In 2006 the 2nd international Festival of Town Pipers and the International Pipe and Tabor Festival were held in York so there were many instrumentalists, including Taborers Society, Doncaster Waits, Gloucester Waits, King's Lynn Waits, Leeds Waits and Stadspijpers van 's-Hertogenbosch alongside. In 2014 the wagon plays were accompanied by a particularly rich number of English Waits groups, as below.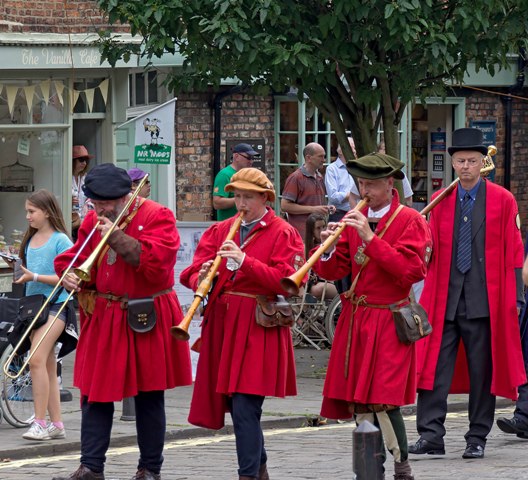 York Waits at St Williams College, preceding the Guild of Builders, who perform the Creation of the World.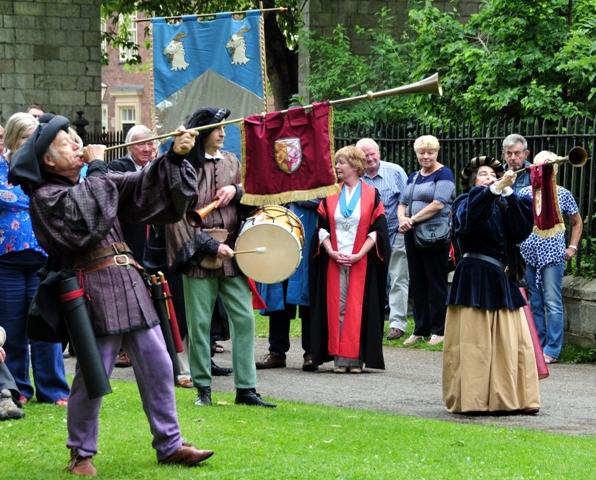 The Bagshotte Waytes in Deans Park.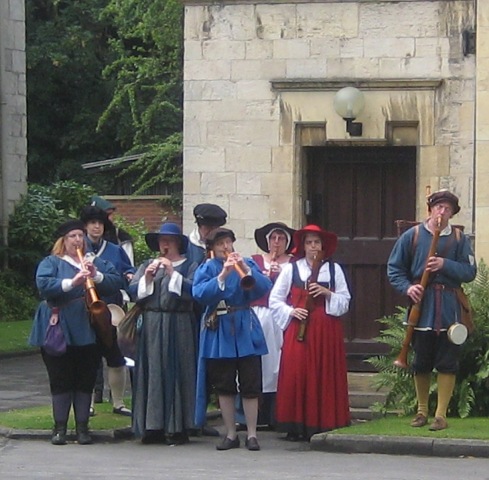 The Colchester Waits playing at the King's Manor, since 1962 part of the University of York. It received its name at the Dissolution of the monasteries: Henry VIII retained the dwelling of the Abbot of St Mary's Abbey and converted it to his own use.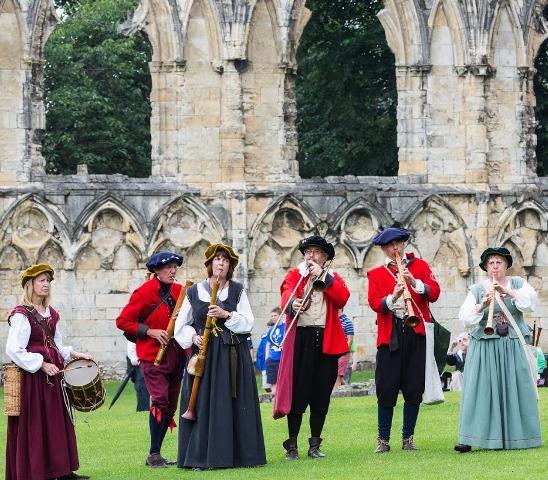 The Doncaster Waits in Museum Gardens, against the backdrop of the nave wall of St Mary's Abbey. Below, they are in procession out of the Dean's Park.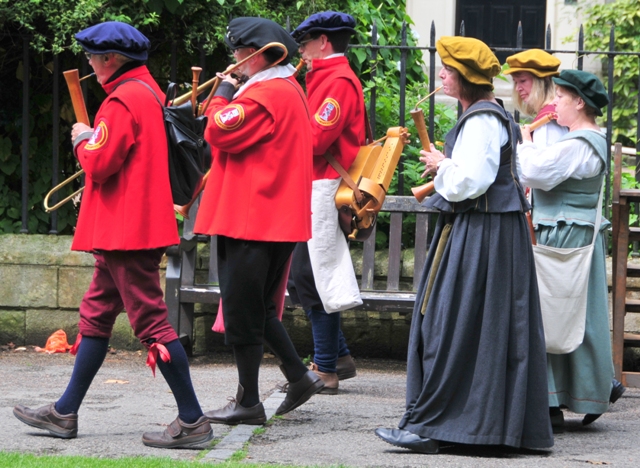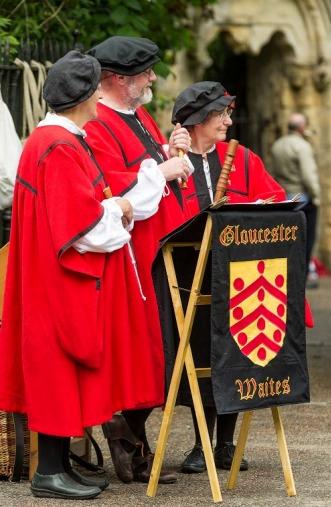 The Gloucester Waits look on the Entry into Jerusalem before playing again.
Below are two pictures of the Lincoln Waits.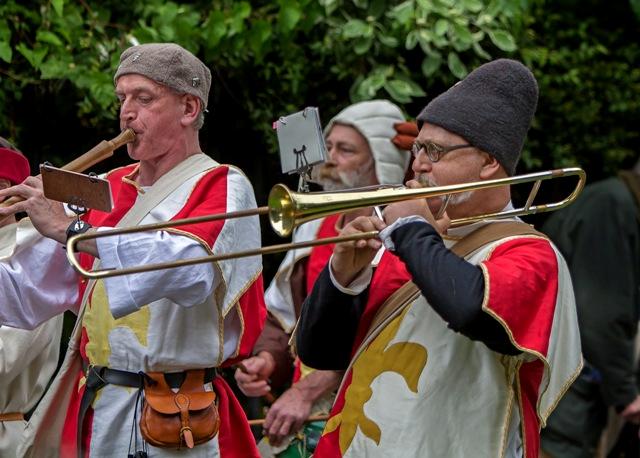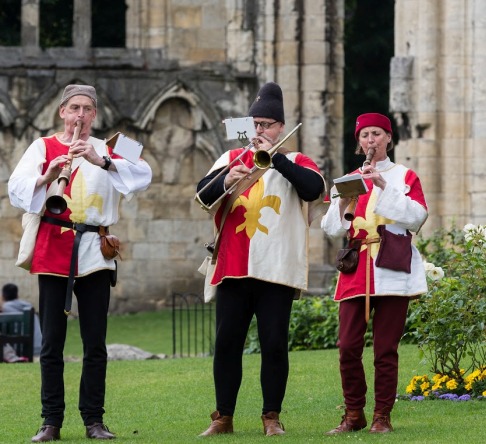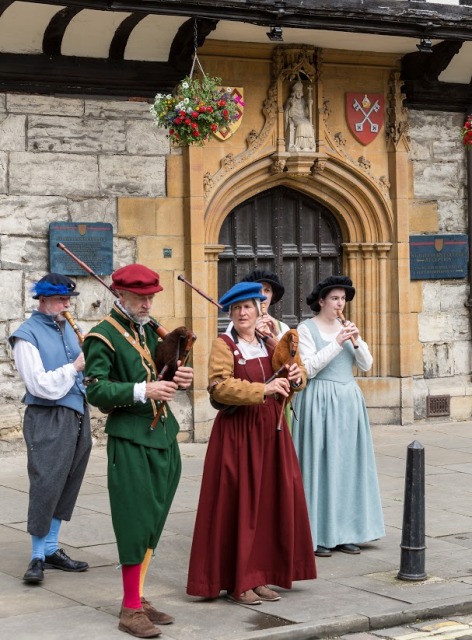 Here is St Williams College, former home to Chantry Priests of York Minster. College Green is a regular playing station. The De Mowbray musicians get ready to play here. Below, tumblers dance beside College Green, with a piper from the Taborers Society. In the background are the Gloucester Waits.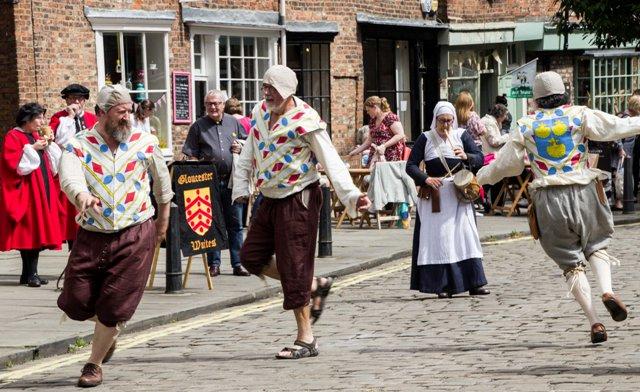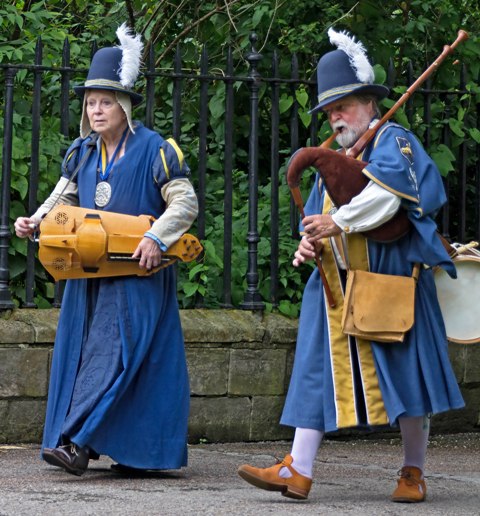 The Leeds Waits are unusual in performing with a hurdy- gurdy (left).
The wagon plays performed on 9 September 2018 were accompanied by the York Waits, Leeds Waits and Bagshotte Waits. See
this page.
'Wait' derives from Old French 'guet' a watchman, and came into English in the late 13th century. The usual instrument for a domestic watchman piping the hours was apparently a small shawm, a 'wait-pipe'. The last-known use of 'wait' for a domestic watchman-piper was in Edward IV's household ordinances of the early 1470s.
In the 15th century the band of three or four shawms, sometimes with a trumpet added, was the standard loud ceremonial and dance-band. Transfer of the description 'wait' from the household minstrel-watchman to any shawmist led to such pipe-bands being called 'waits'. These included bands employed by nobles, but from the 15th century onwards the great majority of waits were civic minstrels employed by corporations. York has records of such employment.

< Go back