Search the NCEM archive
Item details
Delma Tomlin Personal Folder : 1969 cast foretold in 1968
Item type:
Delma Tomlin Personal Folder
Archive reference:
YMP/O/2/4
Date/year:
1968 and 2018
Description:
York Pres
s front page 1968: 'Mystery Plays will take on a good new look'.
Text says "Next summer's performance of the York Mystery Plays by a 150-strong cast of amateurs may be the most exciting production of the plays since they began in the Middle Ages. After introducing 40 principal actors to the press at the Mansion House (see image below), director Mr Edward Taylor said:
"They are first-class people and very clever actors. There is going to be a uniformity of talent among them. We are not going to see a star performance with the others very much supporting."
This is the first year for centuries that the Plays have had an entirely amateur cast.
Two additional plays will be performed next year, Mr Taylor revealed. Postgraduate student Reiner Sauer, who is Mr Taylor's PA for the plays, will be producing
Exodus
, which is to be performed on a wagon on the city streets. Mr Sauer, a 27 year old Canadian, is writing his thesis on the original staging of the York Cycle. The other play is
Noah
, which will be produced by Mr Taylor. "We hope to take the actors backwards and forwards on the river to give their performances at the end of Marygate and in St George's car park. This is a new idea which will use a specially adapted boat.....
The first of the 25 performances of the Plays will be given in the Museum Gardens on June 20 and the last on July 13 1969.
Chosen for the dual roles of the Virgin Mary and Mary the Mother is a ?36 year old mother of four, Mrs Teresa Forbes-Adam. A former professional actress in London, she first appeared in the Mystery Plays three years ago, when she played Percula, Pilate's wife. Then she was partnered by her husband, local land-owner Mr Nigel Forbes-Adam. "The most exciting thing about it is playing on both sides of my age, as a 16 year old and a 48 year-old mother." One of her major scenes as the Virgin Mary will be the visit from the Angel Gabriel, to be played by Mr Forbes- Adam. A keen amateur actor in his Cambridge University days, he said "I am very pleased with the part and it is of course a great advantage being able to rehearse with my wife."
Page 5 of same
Press
has headline 'York Office Girl chosen to play Eve'. The cuttings have photos of Mr and Mrs Forbes-Adam, Gerald Lomas, John White and Peter Blanshard together; Paul Lally and Anne-Marie Hewitt who will play Adam and Eve, Chris Butchers who plays Satan and wrote the music, Douglas Waft, who is to play Joseph. Filed as YMP/F/7/3.
Below: the Mansion House - the official home of the Lord Mayor of York, where this announcement was made. In front is being performed a 2018 wagon Play, The Remorse of Judas.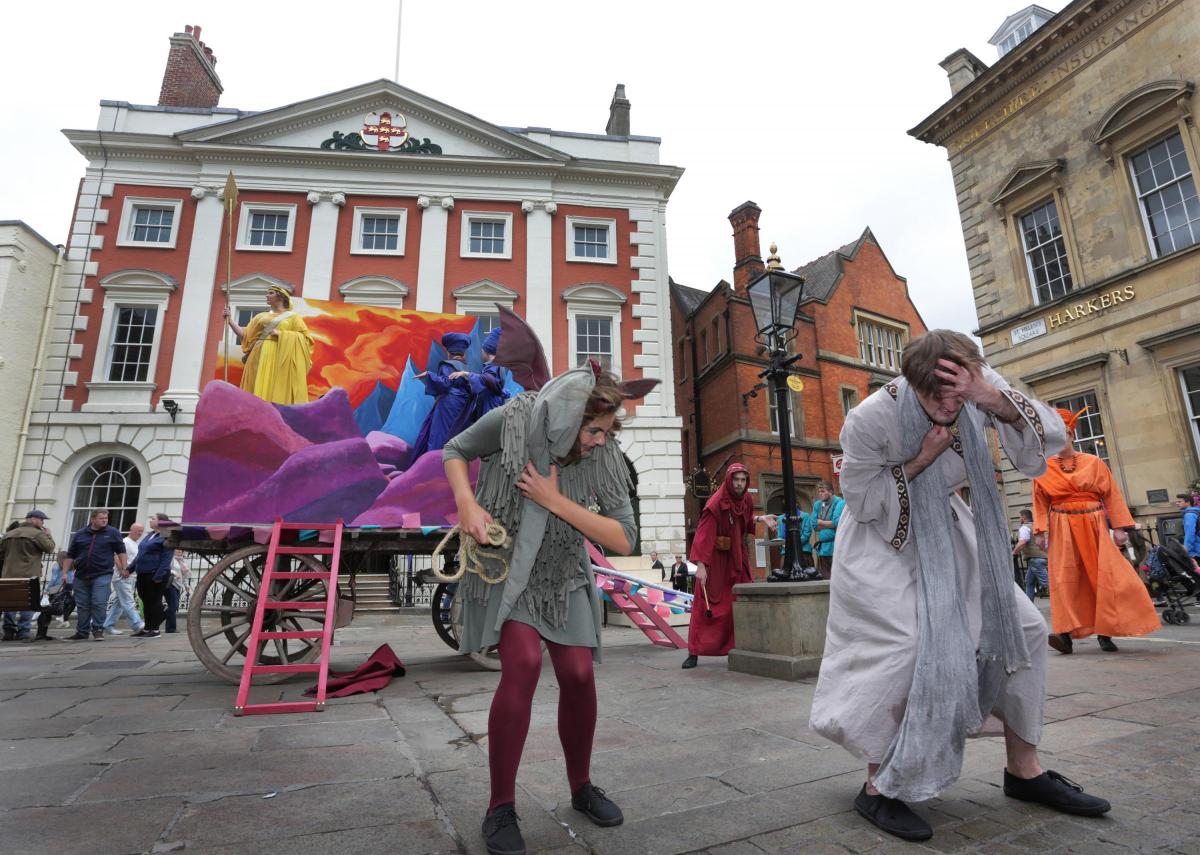 < Go back