Search the NCEM archive
Item details
Delma Tomlin Personal Folder : Diary entry by Darrell Buttery, 2000
Item type:
Delma Tomlin Personal Folder
Archive reference:
YMP/O/6/1
Date/year:
2000 and 2013
Description:
Photocopy of diary entry in longhand by Darrell Buttery, a local teacher, historian and later President of York Civic Trust. The original is in the archive of the Borthwick Institute at the University of York. Darrell was also a Governor of the Merchant Adventurers of York, who hold a medieval record of their Guild production of the Last Judgement pageant. He saw the Minster Millennium Mystery Plays performed, for the first time, in York Minster and enjoyed them. See
this page
for photos of the Millennium production in the Minster.
This page
of the website lists all the webpages, to help you find a particular year or theme.
This is Darrell Buttery photographed in 2013. He was leading a group of Chinese students around York to see historic sites, which included York Minster. Here he is in Fairfax House, a Georgian town house which is now a museum, run by York Civic Trust.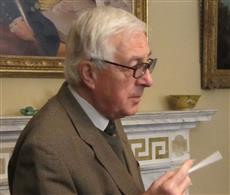 < Go back