Search the NCEM archive
Item details
Programmes/Posters : 1984 Programmes
Item type:
Programmes/Posters
Archive reference:
YMP/B/12
Date/year:
1984
Description:
This reference is the general name for the programmes held for the 1984 Mystery Plays production. For the cast list, see
this entry.
The brochure for the York Festival that year, besides saying that there would be Mystery Play productions in the Museum Gardens, also contains:
WAGON PLAYS will be performed in the traditional style outside York Minster. The Lords of Misrule will present 'The Confessions of the Seven Deadly Sins' at 1pm on Mondays, Wednesdays and Fridays and Archbishop Holgate's Grammar School will present 'The Harrowing of Hell' at 4.30 and 5pm Mondays to Saturdays, 2.30 and 3.15pm Sundays. In addition Nunthorpe Grammar School will perform 'Trifles from York' in the Museum Gardens at 4.30pm on Tuesdays and Thursdays.
The archive has a photograph of the above 'Harrowing of Hell' wagon but has no information about the other two productions.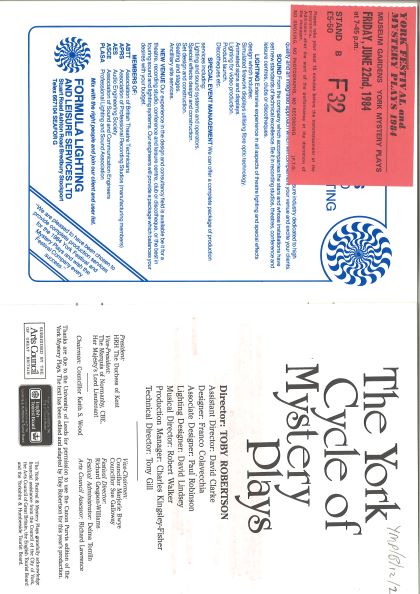 < Go back