Search the NCEM archive
Item details
Programmes/Posters : Programme 1973 Mystery play
Item type:
Programmes/Posters
Archive reference:
YMP/B/8/1
Date/year:
1973
Description:
Programme from the York cycle of mystery plays, produced in 1973 in Museum Gardens.
Contents:
note by the director Edward Taylor; note on the adaptation by Howard Davies; cast; production staff; The York Plays;
Biographies of Edward Taylor, Alison Chitty, Howard Davies, John-Stuart Anderson; note about the wagon play (Herod and Three Kings) and the river play (The Flood).
God the Father: David Johnson
Archangel Michael: Peter Brammall
Archangel Gabriel: Charles Martin
Lucifer (Satan): Joseph Copley
Devils: Gerry Pollard, Mark Spink, Tony Bullen, Noel Stabler
Adam: Andrew Spence
Eve: Ann Willis
Doctor: Richard Grayson
Mary: Andree Pugsley
Joseph: Peter Aughton
Maids to Mary: Sheila Brumby, Heather Cundall
Shepherds: David Wackett, Tony Gilbert, Nigel Pratt
Herod: Douglas Waft
Soldiers: Denis Wilkinson, Christophe Wardale, Duncan Savage, Hugh MacMillan
Messenger: Noel Stabler
Kings: Ken Brown, Hugh Sweeny, Arthur Naylor
Kings' Pages: Nigel Cay, Timothy Shann, Angus Simpson
Jesus: John-Stuart Anderson
Apostles - Peter: Frank Higgens
James: David Wackett
John: Nigel Pratt
Mark: Tony Gilbert
Judas: John Shaw
Andrew: Derek Mapplebeck
Philip: George Mapplebeck
Matthew: Gordon Ross
Thomas: Brian Sollitt
Bartholomew: David Gibson
Symon: Roy Simpson
Thadeus: Richard Marks
Doctors-of-law: Gerry Pollard, Mark Spink, Tony Bullen, Noel Stabler
Woman taken into Adultery: Sheila Brumby
Messenger from Bethany: Joyce James
Martha: Margaret Lawty
Mary Magdalene: Mary Lloyd-Owen
Women of Bethany: Catherine Arnott, Margaret King, Julia Wise
Lazarus: Peter Brammall
Gatekeeper of Jerusalem: Michael Benzimra
Burghers: Ken Brown, Douglas Waft, Arthur Naylor, Peter Aughton
Blind Man: Michael Mellors
Poor Man: Derek Mapplebeck
Pilate: Richard Grayson
Annas: Louis Tate
Caiaphas: John Ramsden
Beadle: Michael Mellors
Woman by the fire: Pamela Penney, Alyne Ledger
PLady ercula: Ruth Ford
Maid: Myfanwy Bugler
Beadle: Philip Clarke
Son to Pilate: Paul Copley
Barabbas: Roy Simpson
Mary the Mother: Mavis Deighton
Mary Cleopas: Pat Higgins
Mary Salome: Edna Shann
Veronica: Diana Cook
Simon of Cyrene: Peter Aughton
Longeus: Douglas Waft
1st Citizen: Gordon Ellwood
2nd Citizen: Pamela Penney
Joseph of Arimathaea: Michael Benzimra
Nichodemus: Hugh Sweeny
Moses: Ken Brown
Isaiah: Noel Stabler
David: Arthur Naylor
Angel at the Tomb: Margaret Lawty
Country Folk and Citizens:Kathy Alexander, Jean Bilton, Valerie Bingham, Susan Bisatt, Margaret Bovingdon, Cherill Braithwaite, Sherrey Brammall, Anne Bugler, Peter Chandley, Sybil Corkhill, Diane Dewar, Margaret Fox, Margaret Gibson, Kenneth Gill, Shirley Gill, Helen Gillery, Annie Gray, Jean Houghton, Caroline Hourigan, Pauline Hutton, Miriam Jagger, Jane Johnson, Heather Jones, Margaret King, Alison Knight, Ian Lucas, A. L. Luxton, Carol Mason, Jane Markham, Cyril Meehan, Margaret Miller, Jean Moore-Fay, Heather Moreton, Doris Nicholson, Carolyn Ovenden, Ann Owen, Sarah Parker, John Richardson, Alice Roberts, Teresa Robinson, Janet Robson, Katie Santon, Gillian Smith, Arnold Spilman, Michael Taylor, J. Teasdale, Ruth Warring, Hilary Weedon, Tony Wilcox, H. Wilson, Diana Wood, Mary Wright.
Mystery Play Music: Musick's Recreation: Chris Batty (soprano), Robin Jeffrey (lute, hurdy-gurdy), Edward Jones (medieval fiddle, rebec), Robert Thomson (recorder, percussion) Playing medieval music contemporary with the Mystery Plays from England, France and Italy.
Director: Edward Taylor
Designer: Alison Chitty
Wardrobe Mistresses: Kay DeLittle, Phyllis Bytheway, Eileen Savers
Property Mistress: Kathleen DeLittle
Front of House Manager: R. L. Rodger
Deputy Front of House Manager: W. Smith
Cast Marshal: Kenneth Matthews
Wardrobe Group: Gillian Banks, Fiona Black, Kay Bowyer, Olave Dench, Helen Driscoll, Marian Everatt, Freda Freer, Mary Frith, Theresa Green, Maria Jubb, Edith Lister, Peggy Lovegrove, Anne Mackrory, Edith McHugh, Doreen Myers, Winifred Oliver, Anne Paves, Norah Richmond, Elsie Robinson, Olive Savage, Elizabeth Simmonds, Eileen Skaife, Phyllis Turner, Winifred Whittington, Jill Williamson
Property Mistress: Ruth Dawson
Property Assistants: Sue Randal Davina Oakland, Judith Pinder, Sheila Lax, Alfred Bristow, Hilda Bristow, Marian Lacey, Andrew Pinder, Michael Bowen
Musical Director: Edward Jones
Movement Director: Louise Brown
Stage Director: Neville Wright
Lighting Designer: Jonathan Allen
Lighting Operator: David Webster
Lighting Assistants: David Eastoe, Paul Hudson, Ian Earl
Sound Supervisor: Keith Russell
Sound Operator: Alastair McArthur
Sound Assistants: Nigel Lowey, Nick Coope
Control Cabin Announcements: Ronald Buckle, Geoffrey Green
Stage Assistants: John Freer, Mark Douglas, Richard Anderson, Geoffrey Raine, George Jefferson
Front of House Manager: Mr A. R. Pickering
Deputy House Manager: Mr. P. N. Wilmott
Assistant House Manager: Mr. T. G. Bardy
Chief Stand Stewards: Mr. A. Gudgeon, D. T. Hutchinson, Miss R. Pickering
Cushion Stewards: Mrs. A. R. Pickering, Mrs. A. Hall
Information: Mrs. J. Woodcock
Chief Finance Stewards: Mrs. E. Farnworth, Mr. A. Hartley, Mr. F. Lund, Mrs. T. Bardy
Chief Programme Steward:Mrs. J. Randall
Chief Field Steward: Mr. K. Bruce
Herod and the Three Kings, Setting constructed by Andrew Carr and embellished by Michael Rogers, assisted by boys of Archbishop Holgate's Grammar School and girls of York College for Girls
Herod: Nicholas Arkle
second counsellor: John Allen
First Counsellor: Stephen Ramm
Herod's son: David Wilson
Messenger: Andrew Fineron
First King: Kerry Hutchinson
Second King: Paul Silvester
Third King: Timpthy Skilbeck
Maid : Jane Johnson or Lynne Riley
Joseph: Stewart Lack
Mary: Julia Norman or Janet Moore
Angel: Keith Flanagan
Pages: Edward Scutt, Michael Falkner, Kenneth Mounter
Apprentices: Keith Brown, Huw Williams
Halberdiers: Bryan English, Andrew Law, Carl Nielson
Producer: Stewart Lack; text of the play by Stewart Lack. In his Foreword he refers to the fact that the last performance was four hundred years ago.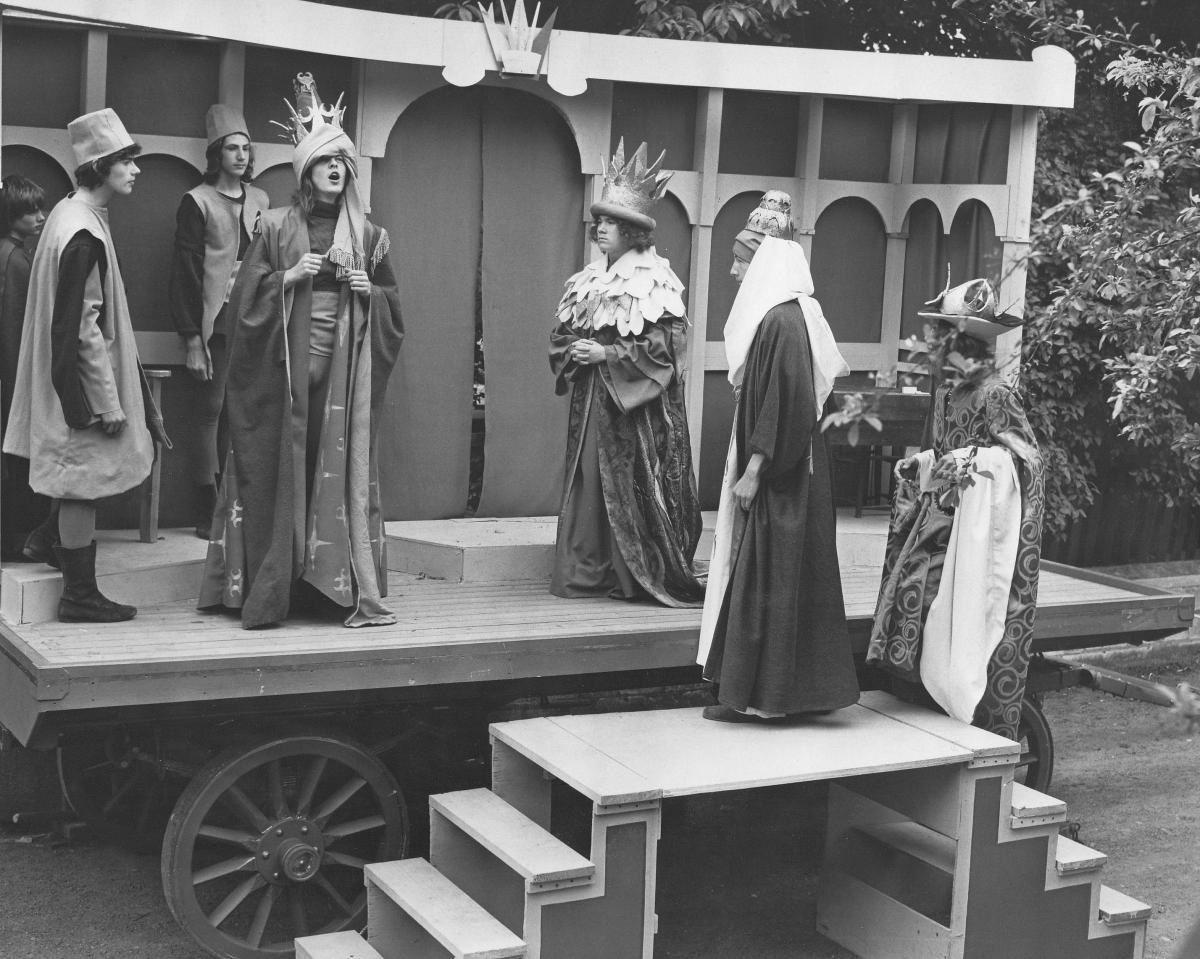 Noah: Jim Hammond
Noah's Wife: Janet Goodall
Noah's Sons: Ian Bailey, Charles Frank, Kim Crooks
Noah's Daughters-in-Law: Ann Priest, Elisabeth Lewis, Marilyn Tulloch
Musicians: Mill Mount Grammar School
Angels: St Peters (juniors); York College for Girls (juniors)
Animal masks: Freda Woolner
Translation: Howard Davies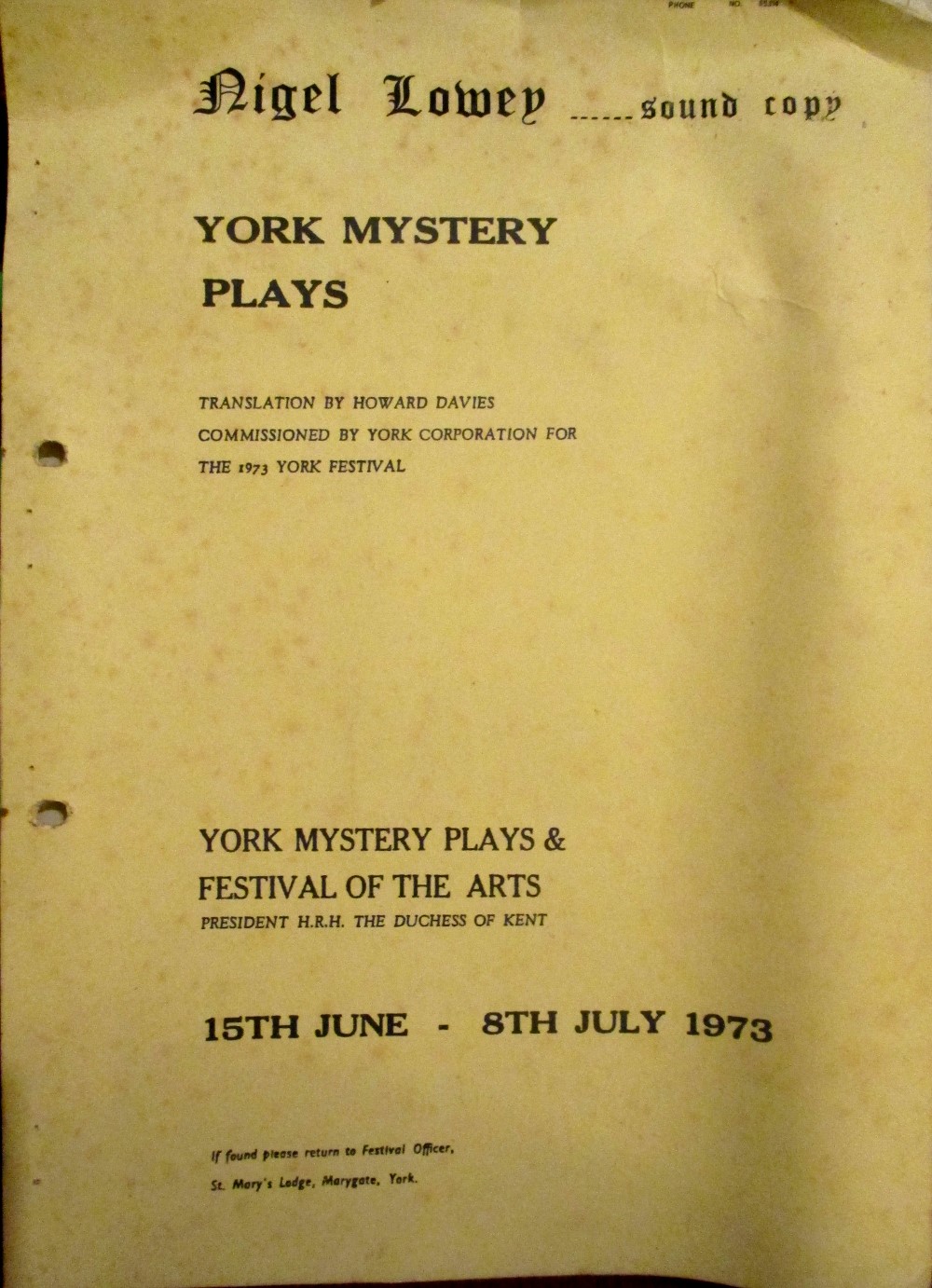 < Go back