Search the NCEM archive
Item details
Programmes/Posters : 2002 Wagon Plays Programme
Item type:
Programmes/Posters
Archive reference:
YMP/B/20/1
Date/year:
2002
Description:
2002 Wagon Plays Programme.
Contents include messages from patrons (Archbishop of York, Earl of Harewood, Dame Judi Dench); 'York Waggon Plays' by Mike Tyler; 'Literary Significance' by Karen Hodder; 'The Christian Message' by Richard M C Seed, Archdeacon of York; 'The Role of the City Council' by Lord Mayor Councillor Irene Waudby; programme of each play in turn; 'Education' by Jill Cooper; Mike Tyler biography; Paul Toy biography; 'The Historical Significance' by Professor Barrie Dobson; 'An International Spectacle' by Dr Margaret Rogerson; 'Recreating the Past?' by Dr Christopher Daniell; 'The York Guilds' by Prof David Palliser; Acknowledgements and list of sponsors.
Here is a map showing the five playing stations: Dean's Park, Minster South Door, St William's College, King's Square, Museum Gardens.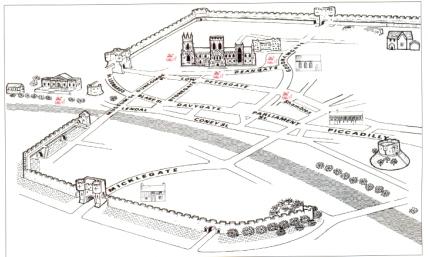 Director: Mike Tyler
Play 1. The Guild of Building: The Creation of the World to the Fifth Day.
Waggon Master: Tony Neal
Assisted by: George Blades, Andrew Burley, Paul Deamer, John Niklaus, John Oakley, Steve Owen, Richard Parkin, Noel Shouksmith, Peter Summers, Colin Young
Technical Crew: Oliver Brown, Ben Collins, Sam Thackery, Jack Green
Artistic Director: Anthony Ravenhall
God: Brian Wilson and Steve Bielby
Angels: Fae Harper, Nichola Pittman, Alicia Roberts
Play 2. The Shipwrights, Fishers and Mariners Play: Noah and the Flood with an introduction from the Building of the Ark, by
St Luke's Church
.
Director and Pageant Master: Mark Reilly
Waggon Master: Paul Smith
Assisted by: Martin Price, Lee Sculthorp, David Smallwood, Mark Stead, Ian Turner, Derek Wilkinson, Dave Willis
Set Designer: Mark Comer
Set Construction: Mark Comer, Edward Comer, Martin Davies, Erica Frankland, Linda Price, Marjorie Sharp, Paul Smith, Ian Turner
Costumes: Lynn Comer, Madge Turner, Gillian Tyler, Simon Usher, Lesley Wilkinson
Musical Director: Alison Morse
Production Assistant: Gillian Tyler
God Voice 1: Edward Comer
God Voice 2: James Shepherd
God Voice 3: Owain Davies
Noah: Mark Comer
Son 1: Martin Shepherd
Son 2: Martin Davies
Son 3: Thomas Tyler
Mrs Noah: Lesley Wilkinson
Daughter 1: Gillian Tyler
Daughter 2: Aniko Shepherd
Daughter 3: Dion Smith
Mrs Noah's Friends: Pauline Wright, Joyce Costello
Raven and Dove: Ruth Price
Animals: Jacob Bellerby, Joseph Bellerby, Edward Cotton, Bethan Davies, Emily Gill, Thomas Gill, Bethany Lord, Sophie Lord, David Price, Sarah Price, Emily Rose, Robert Rose, Luke Sculthorp, Peter Sculthorp, Anna Sheppard, Danielle Smilie, Donna Smith, James Smith, Emily Wilkinson, Rachel Wilkinson
Choir: Jenny Carter-Shaw, Lynn Comer, Liz Davies, Erica Frankland, Pam Hutchinson, Alison Morse, Vanda Nendick, Anne Stier, John Stier, David Titchener, Elaine Titchener, Simon Usher, Eileen Wishart
Musicians: Alison Morse, Erica Frankland
Townsfolk: Mandy Gill, Tim Gill, Carol Lawson, Linda Price, Chris Rose, Madge Turner, June Willis
Play 3. The Company of Merchant Taylors: The Hosiers Play of Moses and Pharoah.
Waggon Master: Keith Musker
Waggon Team: John Musker, Mathew Thompson, Thomas Brooks, Kevin McManus, Alan Brilly, Martin Hofschoerer, Miles Wymark-Hoar, Cory Mason
Director: Ged Cooper
Assistant Director: Esther Steven
Set Design: Alan Appleby
Set Construction: Rick Baker, Ryan Cook, Jason Haslegrove, Joyce Sanderson
Scenery: David Sharpe with Kathy Chen, Erin Collins, Sophie Mackfall, Ruth Woods
Music Director: Kate Vernon-Rees
Costumes: Jenny Olsen, Sarah Rawcliffe
King Pharaoh: Will Roberts
God: Robyn MacNamara
Moses: Cordelia Mitchell
1st Counsellor: Jenny Nobbs
2nd Counsellor: Patrick Hannon
1st Hebrew: Hannah Gath
2nd Hebrew: Sonia di Lorenzo
3rd Hebrew: Katherine Ekers
1st Egyptian: Holly Bonarius
2nd Egyptian: Gemma Whitehead
Egyptian Soldiers: Ted Ralph, Oliver Gell, Michael Lawton, Tristran Fayers
Trumpeter: Nick Wallen
Drummer: Stephen Brown
Play 4. The Lords of Misrule. The Chandlers Play: The Angels and Shepherds.
Pageant Master: Carolin Esser
Waggon Master: Kit Dobson
Assisted by: Tori Adams, Richard Ball, Allan Barton, Erika Corradini, Carolin Esser, Jonathan Galloway, Aubrey Hanson, Becky Tipper, Clare Wipple
Stage Master: Andrew Cranmer
Art Master: Thom Gobbitt
Assisted by: Tori Adams, Robert Gerl, Ellie Townsend, Clare Whipple
Director: Carolin Esser
Costume Mistress: Catherine Rich, assisted by Aimee Pritchard and Ellie Townsend
1st Shepherd: Robert Jason Wright
2nd Shepherd: Nina Maleczeck
3rd Shepherd: Jeremy Dean
Star: Joanna Huntingdon
Mary: Elisabeth Reddish
Joseph: Thom Gobbitt
The Angelic Singers: Rosa Alba (Alice Cowen, Shannon Lewis, Suzanne Ossa, Anna Sander, Danielle Westerhof, Susannah Marshall, Catie Hawks, Helen Deeming)
Play 5. St Paul's Church, Heslington. The Barbers Play: The Baptism of Christ.
Waggon Team: From the congregation of St Paul's, Heslington
Director: Lee Maloney
Musical Director: Stephen Kenwright
Set Designer: Michael Wall, assisted by Ken Garnett, Lee Maloney, Gordon Thompson
Costume Team: Maryan Marshman, Rosabell Lonsborough
Stage Manager: Helen Kenwright
Production Assistant: Peter Rycraft
John the Baptist: Christ Brownbridge
Jesus: Bob Cummings
1st Angel: Harriet Marshman
2nd Angel: Linda Ali
Witnesses: Stephen Kenwright, Peter Main, Christopher Marshman, Lesley Holden
Play 6. The Company of Cordwainers. The Cappers Play: The Woman Taken into Adultery and the Raising of Lazarus.
Waggon Team: West Thorpe Scouts
Costume Team: Angela McMullen, assisted by Paddy Crossley, Anne Reid, Jude Brereton
Director: Kathleen Foster
Set Team: Helen Atkinson, Peter Reid, Alan Dickens, Ernest Beech
Jesus: John Sharpe
First Accuser: Pat Waters
Second Accuser: Peter Major
First Doctor: Sam Valentine
Second Doctor: Kingsley Hoffman
Woman: Helen Mitchell
Messenger: Ben Wallace
Mary: Briony Garety
Martha: Barbara Miller
First Mourner: Hannah Mitchell
Second Mourner: Pam Frank
First Apostle: Andrew Waller
Second Apostle: Noel Bakes
Lazarus: Frank Beckwith
Townsfolk: Dorothy Bennet-Pitkin, Angela McMullen, Lisa Valentine, Rachel Hollingworth
Play 7. The Guild of Freemen. The Cutlers Play: The Conspiracy against Jesus.
Waggon Master: Eddie Errington
Waggon Teams: The Guild of Freemen (Eileen Forth, Gordon Varndell, Dave Hobman, Simon Errington, Richard Helstrip, Louisa Hobman, Sean Benson, Emma Lamb, Jason Lamb), 110 City of York Squadron Air Training Corps (Cpl. Allison, Fl. Sgt. Murphy, Cadets Ryder, Holden, Witts and Thompson)
Director: David Wilde
Set Design: Steve Outhwaite
Set Construction: Richard Cregan
Costume and Artwork: Dawn Outhwaite
Guild Liaison: Roger Lee, Clerk to the Guild
Pilate: Michael Ireton
Caiaphas: Hugh Bernays
Annas: Chris Rawson
1st Doctor: Rachel Johnson
2nd Doctor: Lee Maloney
1st Soldier: Frank Brogan
2nd Soldier: Alan Lyons
3rd Soldier: Douglas Weake
Porter: Sheila Shouksmith
Judas: Jamie Searle
Play 8. The Company of Butchers: The Death of Christ.
Waggon Master: David Clapham
Waggon Team: Stephen Barker, David Grailey, James Hudson, Richard Hudson, Paul Megson, Mandy Sowray, Stephen Wilkinson, Ed Wright, Nigel Wright, Tom Wright, Tony Wright, John Yeomans
Director: Ray Alexander
Production Team: Robert Ward, Yvonne Ward
Designer: Mike Bowen
Wardrobe: Ursula Groom
Pilate: Dave Parkinson
Caiaphas: Hugh Curristan
Annas: Ged Murray
Jesus: Christian Newton
Mary: Lottie Alexander
John: Philip Manning
Mary Cleophas: Gemma Sharp
Left Thief: Jorvik Kalicinski
Right Thief: Alex Harker
Child: Fiona Mozley
Centurion: Richard Gwilt
Joseph of Arimathea: Harold Mozley
Nichodemus: Noel Stabler
Mary Magdalene: Alice Mapplebeck
Woman: Anne Parkinson
Musician: Richard Bowman
Play 9. The Guild of Scriveners: The Incredulity of Thomas.
Pageant Master to the Guild: Bill Townsend (who also designed and constructed the set)
Costume Mistress: May Townsend
Waggon Crew and Production Team: Members and Friends of the Guild of Scriveners.
Director: Peter Bowman
Peter: Tim Hinton
John: John Latimer
James: David Brigham
Christ: Adrian Widdowson
Thomas: Ian Bithell
Play 10. The Company of Merchant Adventurers: The Last Judgement.
Director: Richard Digby Day
Set Design and Development (from the director's designs): Mike Rogers
Set Construction: Martin Hooker, Phil Jepson, Paul Mayhew, Ian Johnstone
Painting: Mike Rogers, Emily Harvey
Prompt: Beryl Nairn
Stage Manager: Neil Butterworth
Costume: Helen Taylor
God: Ruth Ford, Jack O'Brian
Jesus: John Gray
1st Angel: Adam Winn
2nd Angel: Samuel Fox
3rd Angel: Ferry Hunt
1st Good Soul: Helen Wilson
2nd Good Soul: Charles Hunt
1st Bad Soul: Robin Sanger
2nd Bad Soul: Julie Craggs
1st Apostle: Alan Reed
2nd Apostle: Chloe Lewis
1st Devil: Neil Ward
2nd Devil: Emma Jane Wheelan
3rd Devil: Tim Holman
A Medieval Audience? Apprentices, Servants and Townsfolk of the City of York: Canon Lee School Drama Group
Director: Mrs. Jenny Carr
Members of Canon Lee School Drama Group.
Here is an interview with David Wilde, who directed Play 7 this year, the Conspiracy against Jesus.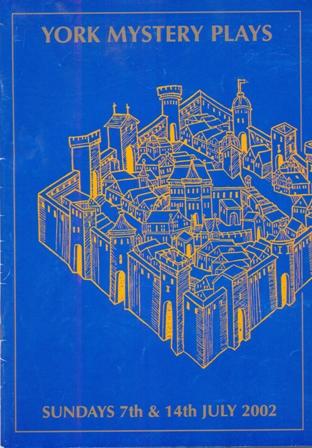 < Go back