Search the NCEM archive
Item details
Miscellaneous : Professional Actors
Item type:
Miscellaneous
Archive reference:
YMP/J/1
Date/year:
1951 onwards
Description:
Professional actors who started their careers in the York Mystery Plays are known to include: Judi Dench (Angel 1951, Angel at Tomb 1954, Mary 1957), Tom Bell (2nd devil 1951) Jane Snowden (Mary 1984), David Bradley (2nd knight 1960, Jesus 1976), John White (stage name = Richard Conway) 1957 onwards, Edward Petherbridge (Citizen 1954), Mary Ure (Virgin Mary 1951), Janet McTeer (lived in York and worked at Theatre Royal), Peter Bowles (Caiaphas 1963), Ian McShane (Lucifer 1963, below with Alan Dobie), Ralph Ineson (Herod's Heavym,1992) Alan Booty (Abraham, 1996 and 2000) Tom Davey (Gabriel, 2000) Richard Coyle (1994). Toby Gordon, Lucifer 2016, is from York.
The NCEM would like to extend this list.
Below: David Bradley (Christ) is baptised by Philip Crook (John the Baptist) in 1976.
Of the local actors who have gone on to the professional theatre after gaining their first experiences in the York Mystery Play productions,
Dame Judi Dench
is the most well known. She was in the Plays three times, firstly playing an angel, then the Angel at the Tomb and the third time in 1957 as the Virgin Mary. Then there is
Jane Snowden
, whose playing of Mary in 1984 launched her into a professional career that included main roles in a movie: The Frog Prince, in the TV series
Wish Me Luck
and in the Royal Shakespeare Company's
Les Liaisons Dangereuses
in the West End and in a world tour. But smaller parts too have led on to greater things. David Bradley went to RADA six years after appearing as Second Knight in the 1960 Plays and in 1976 was a professional actor when he played Christ. In 1991 he won the Laurence Olivier award for best supporting actor in the National Theatre's
King Lear
, and in 2014 he won a BAFTA for Best Supporting Actor in
Broadchurch
. John White who still lives in York and whose stage name is Richard Conway played Adam in 1957, Gabriel in 1960 and in 1969 shared three roles alternately of Christ, God and Judas. After his 1980 Pontius Pilate he was encouraged by director Patrick Garland and actor Christopher Timothy to turn professional. He began at the Chichester Festival Theatre and went on to perform with the Royal Shakespeare Company, the National Theatre and on television.

Note: in a review of the 1976 Plays, Robin Thornber of the Guardian refers to "'the company's four hard-working professional actors: David Bradley as a gritty Yorkshire Christ; Raymond Platt as Lucifer; Dave Hill as Pilate; and Paul Jesson as Judas." If correct, is this the highest number of professionals in the plays?
Below is Toby Gordon as Lucifer in 2016. and other falling rebel angels. He is from York, at the beginning of his professional career. .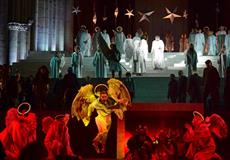 < Go back