Search the NCEM archive
Item details
Press Cuttings : 2002 Press Cuttings
Item type:
Press Cuttings
Archive reference:
YMP/F/18
Date/year:
2002 and 2021
Description:
The NCEM has a modest collection of cuttings about the 2002 wagon plays. Here is a letter from the
York
Press
of 16 September 2021, celebrating the life of former teacher Alan Reed, and with an image of him. The letter as printed does not mention the Mystery Plays but alongside is a photo of Mr Reed at the Last Judgement play of 2002. Ruth Ford plays God. The programme describes him as the First Apostle.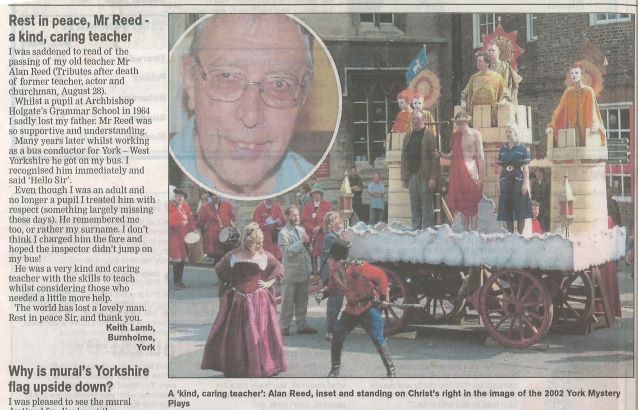 Our CALM database also shows Mr Reed acted in the 2006 plays, also The Last Judgment, but as a Bad Soul.
< Go back