Search the NCEM archive
Item details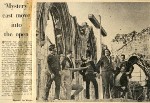 Press cutting, æMystery cast move into the openÆ with picture of rehearsal
Click to see larger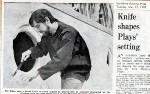 Press cutting, æKnife shapes PlaysÆ setting,Æ
Click to see larger
Press Cuttings : 1969 Press Cuttings
Item type:
Press Cuttings
Archive reference:
YMP/F/7
Date/year:
May 1969
Description:
Press cuttings donated in an album by Pat Olsen, the designer in 1969. 'Mystery Cast Move into the Open' was the headline with the photo (by Ian Wright) of a rehearsal in Museum Gardens, in daywear not costume.
The second headline was 'Knife shapes Plays' setting'.
York Evening Press
article (27/05/69, p.5) and photograph, caption: Pat Olsen uses a bread knife to carve expanded polystyrene to simulate stonework on the Mystery Play set now being built in the Museum Gardens, York.
Stored as YMP/F/7/2/2
Here is another cutting about the 1969 set.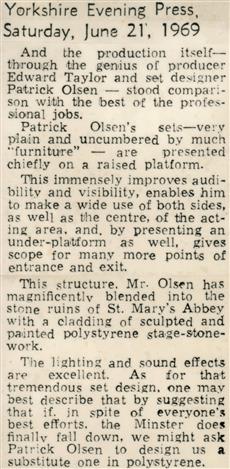 < Go back